In this article, I will show you about how to categorize your blog posts for public and private visibility or make a password protected post those who knows the password can access the post otherwise the post will not open. Once you publishes a blog post/page the WordPress default settings are set to public visibility. However, sometimes you may wanted to keep a password for your blog posts (Or somewhere you want to Prevent Search Engines From Indexing a Page in WordPress) rather than keeping it to private for many reasons. WordPress also offers us to keep password over blog posts and pages which you just publishes or published over your blog.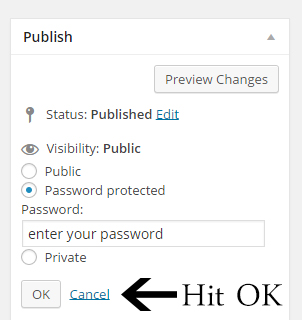 How to Make Password Protected a Post/Page in WordPress?
Come to the point we can set passwords over blog posts/pages those which have been published or going to publish in future. A little bit more I want to show you that by default the post visibility type is set to Public.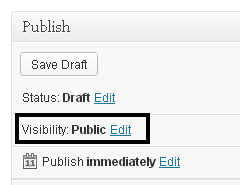 Clicking the link Edit besides Visibility: Public this will reveal a text field for entering a password, that will be required to view that post. If you set your post to Private status your post visible only to your site's Users with the role of Administrator or Editor.