We know that questions and answers community help users to ask questions from the community members and find the appropriate answers for their desired questions. In this way, I thought to write about a person can easily add questions and answers section in WordPress installation. So, if you really desire to add a new Q&As' section in your WordPress blog read entire article.
Recommended Reading: Part 1, Part 2 and Part 3 Q2A WordPress Integration
How to Add Questions and Answers Section in WordPress
AnsPress is a great WordPress plugin that allows WordPress admins to easily add question & answer system right in your WordPress blog. By the way, AnsPress is still under construction but it's an advance community question and answer system for WordPress.
Here are some great features that AnsPress:
Theme system
Theme override
Voting questions/answers
Add question to favourite (User profile is still in development)
Flag question/answer (Auto queue for moderation is still in development)
Commenting on question and answer
Create custom notes for flagging question/answer
New features coming soon in v1.0
User point system
Better voting system
Better admin interface
User profile
Choose Best Answer for Question
Revision control
Multiple authors
Point based user access
Filter questions
Sort answers by votes and date
Quick ajax search system
Ajax based form submit
How to Use AnsPress?
Follow the steps below:
Install and activate AnsPress in your blog
On activating the plugin, the plugin will automatically create 3 pages i.e, AskPress, Ask and Edit page
Navigate to Settings → AnsPress Options

Simply, configure the settings where you want to display the 

questions

 and answers board like so…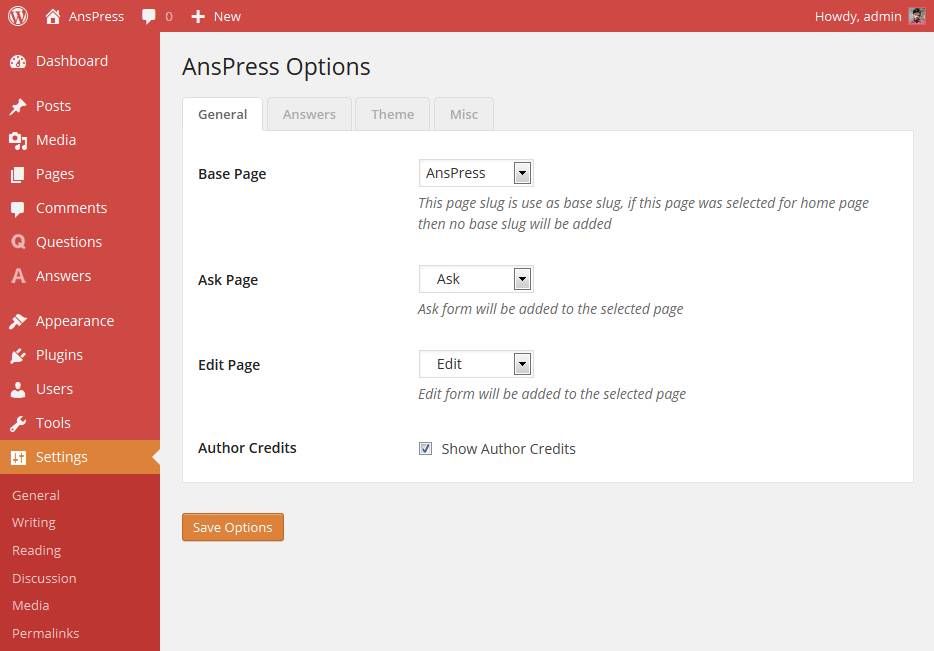 To add new Questions and Answers inside board simply go to Questions → Add New