Adding last modified date in WordPress posts/pages is simple and it's a great way to knock search engines bots about the uniqueness of articles. As search engines bots always follow and display updated version of article.
So, in this article, I'm going to tell you about How to Add Last Modified Date in WordPress Posts/Pages? Hope you will like this article as one of our readers want this tutorial on this site.
WP Last Modified

Last modified date is basically used to tell the visitors and search engine bots (like Google, Yahoo!, Bing) when a certain post/page was lastly updated. Doing this all, people will know the freshness of that web document, and web crawlers can also decide, whether there's any need to save a new copy of that webpage to update their indexes, or not. You will be able to add Revised Meta data to your posts and pages automatically using WP Last Modified plugin, but the following syntax is completely optional, after all it's only example about how revised meta data syntax looks like.
Meta Revised Data syntax:
<meta name="revised" content="Sunday, April 21, 2013, 2:59 am" />
How to Add Revised Meta Data in WordPress Posts/Pages
Follow the steps below:
Install and activate WP Last Modified plugin in your WordPress blog
Once you do that, a plugin settings page will be created under Settings → WP Last Modified
On this page, simply customize the options about how you want the Show Last Updated text to be look like in posts/pages
Select the position where you want to display the text Show Last Updated above or below the posts/pages
Also point out, where you want to activate revised date meta for: Posts or Pages
Click the button Save Changes
That's all…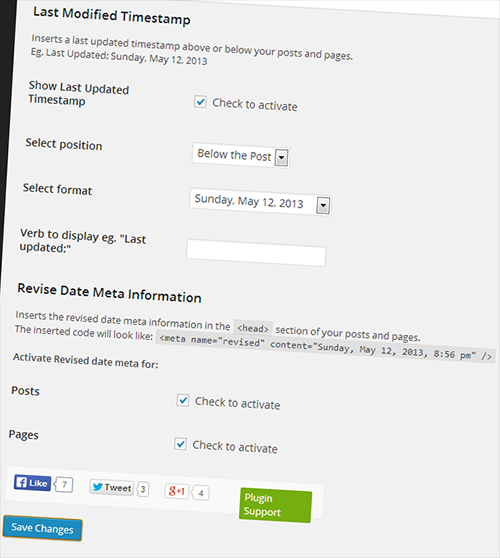 We have just add the Revised Meta Data in the head section