Microsoft's Windows 11 is here, at the moment, Microsoft is the only offering upgrade packages to all those devices that have Windows 10 installed.
This Windows 11 update is not for a wide range of CPU processors, for this many people are looking for installation guides on how to install Windows 11 on unsupported CPUs. But people who has the following PC configuration can now easily upgrade old computers with Windows 10 to Windows 11.
System Requirements for Microsoft Windows 11
You have to fulfil system requirements in case you need to install Windows 11 on your PC. You possibly come across a number of problems whilst using Windows 11 on an outdated PC. Your system has to meet up with certain requirements while using windows 11.
1 GHz or multiple cores or 64-bit of processor and above
4 GB RAM or above
64 GB free disk space or above
Secure Boot and TPM 2.0 support (Bypass TPM 2.0 and secure boot)
WDDM 2.0, DirectX 12 driver
9" or above diagonal HD display with 8-bits for each color frequency.
Connectivity for Internet & MS accounts.
If your PC meets the system requirements above, you can easily upgrade it to Windows 11 using the following steps below:
First of all, you need to verify that you system is supported by the System Health Check app by Microsoft.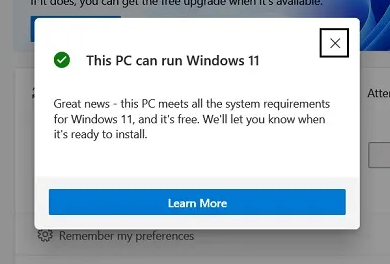 After that, take a backup of sensitive data, apps and files
Choose Settings → Update & Security → Windows Update on a system with Windows 10.
Have a check on all the system updates.
You'll get the path to download/install the upgraded version of Windows 11.
Select download/install and tap on it.
Configure Windows 11 settings by pursuing the reminders on screen.
Note: You can also use Microsoft Installation Assistant, in case, the system is officially supported and you don't get official OTA update by Microsoft.