We know that hacking is getting common day by day and many people have already lost their personal data by hackers. I myself was attacked by a hacker who just entered into my another site's database and deleted everything. From that time I seriously takes cares of my computer, Android devices, and my websites from being vulnerable by malicious scripts, codes, and hacking activities. Why free antivirus softwares for Windows? Because many people out there have not enough money to pay for paid Antivirus softwares. Well, below I have compiled a list of best of best free Antivirus softwares for Windows users.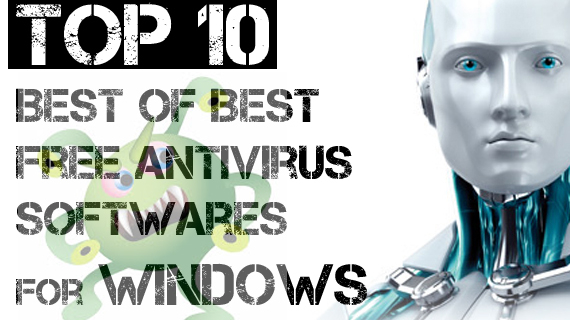 List of Free Antivirus Softwares
ESET NOD32 Antivirus
ESET NOD32 Antivirus gives you the most effective protection against malicious viruses that comes when you browse internet, and you don't know whether your computer is downloading them automatically. They maybe exists in the emails, on a webpage, and more… But the Eset Nod32 gives you comprehensive antispyware and antivirus protection without affecting your computers performance.
Avast Free Antivirus
Avast! is both freeware and payable best antivirus for your Windows, Linux, Mac computer programs yet available for Android devices. This includes upto 40 languages. It treats your computer against malicious viruses/bugs effectively.
Microsoft Security Essentials
Microsoft Security Essentials provides you a real-time protection for your PC that guards against spyware, viruses, and other malicious software. If you want to install this on your computer check out you must have hard disk space: only 17.63 MB. It's free to use and download from Microsoft. Easy to install, easy-to-use, and always kept up to date so you can be assured your PC is protected by the latest technology.
Avira Free Antivirus
Avira free antivirus is one of best award-winning solution of your PC. It removes the malicious bugs, malwares, viruses, etc effectively and protects your computer from being destroyed. It treats your computer highly against the latest stains of worms, viruses, Trojans and more. Additionally, it'll not only keep your PC clean, but also enhances your privacy keeps you browse the web safely.
AVG Antivirus Free Edition
AVG Antivirus Free software Edition gives the basic antivirus and antispyware protection for your PC. It checks files, links, folders before you click on. Highly protects your computer against email spam and scammers. Quick yet provides powerful performance.
COMODO Internet Security
Ultimate free security for your home PC users and prevents hackers from accessing your computer by adding multiple layers of security. Especially developed for Windows users.
WOT (Web of Trust)
WOT protects your PC against untrustworthy links when you click on, scams, and rogue web stores. It really makes the web of trust. It's the faster yet easy to use antivirus solution for your PC.
ClamAV (Clam AntiVirus)
ClamAV is an open source (GPL) antivirus engine designed for detecting Trojans, viruses, malware and other malicious threats.
Free Antivirus Bitdefender
Bitdefender Antivirus free edition has been engineered to enable you to enjoy your computer to the max, without having to worry about viruses and other e-threats. We call it "artificial intelligence" because it will always find the best way for your system to stay clear of dangers without requiring special configuring.