Domain Authority is provided by Seomoz which is a metric for determining the domain level. Domain authority is calculated between 0 to 100, and it is very hard to get 20 – 30 domain authority and easy to get between 10 to 20. Domain authority is one of the most important factor that help people to understand whether a site is worth reading or just a fluff. This factor is used by search engine to determine whether to rank well or not. Higher value of domain authority meaning better ranked website of this domain in compare to others with same content, backlinks and other metric.
Online Domain Authority Checkers
Free Domain Authority Checker by moonsy
Using Moonsy.com you can check the domain authority of your domain at no cost. I found this very important and the best part of this website is that it lists down the previously tested website on the same result page.
Domain Authority Checker by smallseotools
Using smallseotools domain authority checker you can check multiple domain's authority at a time. To put it simply, this domain authority checker does what you order it to do. Like you can so easily check up to 10 domains authority at a time, automatically generating a report that shows just how strong of a presence each website has. The Domain Authority Checker is a powerful resource that improves analytic reports in a matter of seconds.
Website Authority Checker by seoreviewtools
Website Authority Checker by seoreviewtools is all in one authority checking tool that help you to check your domain authority, SEOmoz page authority, Google pagerank, external links to page, SEOmoz (DA= domain authority), and more. It allows you to download the export file in .xls for offline view. Here is a screenshot that will elaborate further.
Bulk DA Checker
Bulk DA checker is a free domain authority checker tool for users who don't want to use captcha code. Using this tool you can check up to 200 domains at a time without going through any captcha code (Yeah, that sounds good.). You can download the CSV file of all the domains that you checked for DA. All these facilities are free with this domain authority checker tool. Even you don't need to get signup and easy-to-use.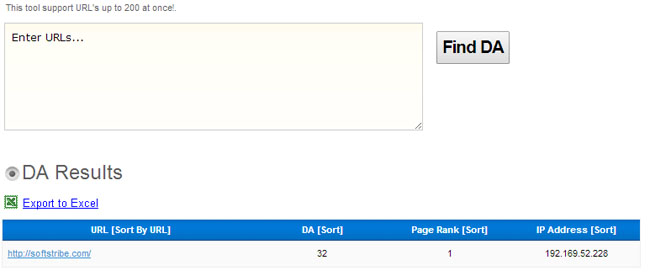 Domain Authority Check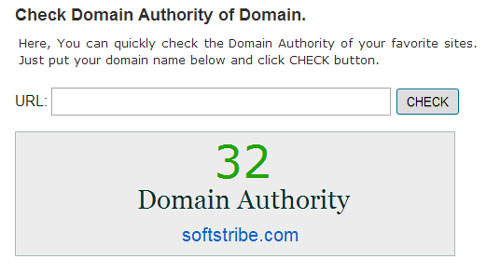 Bulk Domain Authority Checker
Bulk domain authority checker is all in one SEO friendly tool to check bulk page rank, domain authority, IP Address & alexa ranking. It is very fast tool with excel sheet download option.