Why am I referring to Lightshot? Because Lightshot is one of the best screenshot capturing tools that users can use to take screenshots of their computer screen in order to point out specific part of the screen. Sometimes we wanted to use screenshot capturing tools to select a specific area of the screen and grab a screenshot of it.
Screenshots actually helps understand the matter easily because we point out main parts of the image by customizing the screenshot with different tools such as arrows, rectangles or squares. However, in this article I am going to list down the 10 best screenshot capturing tools like lightshot (Also we can say it the 10 best alternatives of lightshot).
Lightshot helps capture screenshot that you can either save it to desktop or upload to lightshot's online server and you will be provided screenshot link to embed it wherever you want to. Lightshot offers an online editor that will allow you to customize your screenshots with arrows, rectangles, squares or circles with different colours for each one of them. Today, lightshot can be installed in PC like Mac or Windows or it can be installed as add-on for web browsers such as Chrome, Opera, IE and Firefox.
10 Best Screenshot Capturing Tools like Lightshot
1. Greenshot Light-weight Screenshot Tool
Greenshot is known is the best and light-weight screenshot capturing tool. It boosts your productivity while working because it is highly optimized for productivity with Optical Character Recognition (OCR). You can try greenshot as the best alternative of lightshot software in your Windows or Mac. Greenshot helps you to save the entire screen's snapshot or just a specific part of the screen either in computer or load it up to an Internet-picture-storage and get a public accessible URL. Right now it supports these internet picture storage services i.e., Confluence, Dropbox, Box.com, Flick, JIRA, Imgur without/with password, Picasa-Web.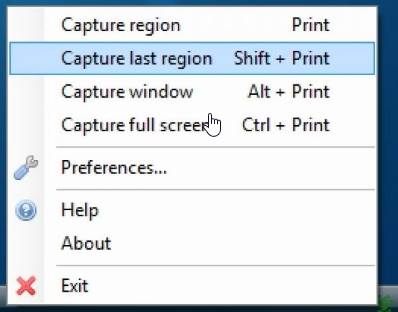 However, you can export your screenshots to Microsoft Office Excel, MS Word, MS Powerpoint or even Outlook. Greenshot gives you the complete set of tools to apply text or shapes inside of your screenshot to make it informative.
Features:

Offers capture of window, region or full screenshot
Supports several image formats
Light-weight and demands only 1289 KiBs in hard-drive to work
32 supported languages
2. PicPick
PicPick snapshot capture tool is the all-in-one solution for developers, designers and general daily user. PicPick is really easy to use because of its intuitive interface. Once you are installing PicPick software in your PC all you got to do is to select one of the tool from the PicPick Tools trayicon menu whenever you want.
Features
It features powerful capture tool
Easy to use
Customization for any screenshot you pic with PicPick more like image editor with color picker color palette. protractor, whiteboard, pixel ruler, crosshair and etc.
You can use all these tools freely
3. Snagit Ultimate Screen Capture Tool
Snagit is the ultimate screen capturing tool known in the list of best lightshot alternatives software. If you use Snagit screenshot capturing tool then you can easily edit your snapshots, organize them as well as share them on social media. Snagit offers easy to use interface to create engaging visuals with the image editing tools. Like I said, snagit is the ultimate screen capture tool and you can use it to capture any part straight off computer screen and save it to your PC.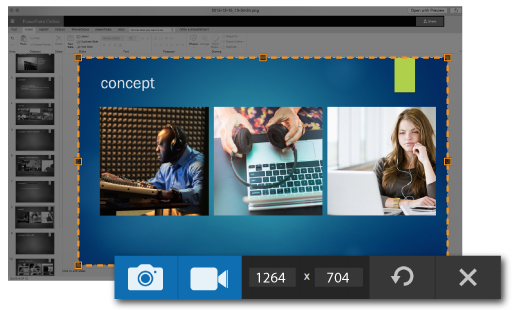 Features
Enhance with transparency, callouts, and other effects to make your simple screenshot into an elegant eye-catching visual
Let the images talk for you by customizing them with visual effects provided by snagit tool
Easy to use
Minimalistic interface
Anyone can use it and no need to master any graphic software to understand snagit tool
much more…
4. Shutter feature-rich screenshot Capturing Tool
Shutter is a feature-rich screenshot capturing tool that can used to take screenshots of any specific region, window or even entire computer screen. Shutter has provided you different effects that you can apply over your screenshots to make them meaningful and eye-catchy. You can use software tools to draw anything on it to highlight interesting points and then upload to an image hosting site or on your PC all within one window.
5. Awesome Screenshot
Previously, we already wrote about awesome screenshot tool that it has started supporting Google drive as picture storage third-party. However, I would love to say that you can use awesome screenshot tool to capture the whole page or any portion, annotate it with rectangles, circles, arrows, lines and text, one-click upload to share.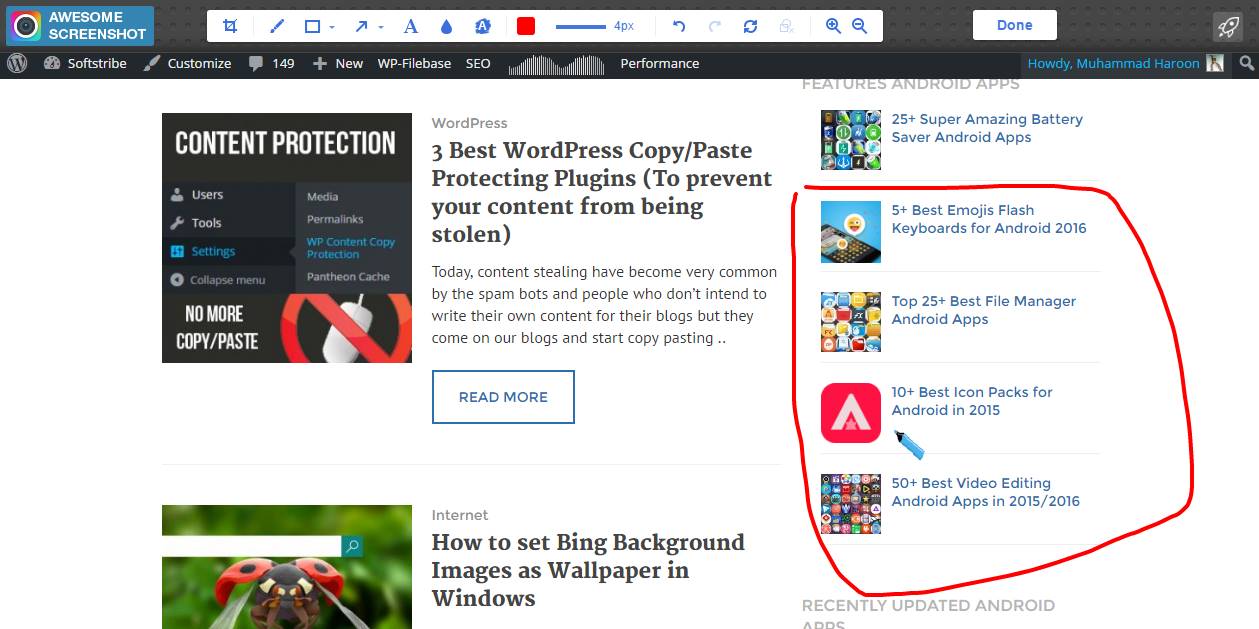 6. Snipping Tool
Using snipping tool start capturing screenshots of your computer screen or any object on your screen, and annotate, save, or share the image. You have provided tons of features in snipping tool like drawing tools such as pen tool, a circle or a triangle around object and more.
Features
Rectangular Snip: You can draw a precise line simply by dragging the cursor around an object to create rectangle with any color you choose just to make it noticeable
Window Snip: With Window snip you can snapshot the window like browser window or dialog box of any folder which you want to capture
Full-screen Snip: Full-screen snip feature helps you to capture the entire screen of the PC
After you capture a snip: it's automatically copied to the mark-up window, where you can annotate, save, or share the snip
The best thing and why I would like to use snipping tool is that it is officially by Microsoft.
7. Jing
Jing is the picture as well as the video capturing tool that you can use to capture or record a video tutorial of 5 minutes. Afterwards, you can upload your screenshots or videos to Web, FTP, computer or clipboard. Like lightshot, you will be provided a link that can be shared with others users to view or access the uploaded file. Jing provides a lot more than that in features.
Features
Image tools are available to add text
Highlight existing text in the image or add arrows, rectangles to annotate your capture
With Jing you can take captures quicker than with similar applications
Easy to use interface
Note: Just to let you know that Jing gives you the video output in SWF Flash file that makes it almost impossible to export or edit afterwards. The recording is limited to 5 mins and a low quality of 10 frames per second.
8. FastStone Capture
FastStone Capture is a lightweight, powerful, yet fully-featured screen capturing tool. It also allows you to record your computer screenshot to make video tutorials if screenshot is not sufficient. 🙂 However, FastStore Capture tool allows you to capture screenshot of anything from windows, objects, menus, full screen, rectangular/freehand regions and even scrolling windows/web pages.
Features
Other noticeable features are given below:
An eyedropper color selection
A resizeable on-screen ruler
A magnify glass tool
Pixel-exact cropping via arrow keys
9. Skitch
Skitch is a screenshot editing and sharing utility that allows its users to edit the image with shapes, custom text and then share it online all within one page. Using Skitch screenshot editor you can also export your images to various image formats like jpeg, png, and more.
Skitch works hand in hand with the application to give you 1-click uploading of your images for fast image sharing on different social media sites.
ShareX lets you take screenshots as well as screencasts of any selected area of your computer screens. It is an open source computer software. You can save screenshots and captured videos in your clipboard, hard-drive or instantly upload to over 50 different file hosting services.
11. Screenshot Captor
Screenshot Captor is best tools for taking screenshots on your computer. It is a lot different when comparing it with other screenshot capturing tools. It can help you to capture multimon (multiple monitors), desktop, active window, any region of the screen, windows object. Each mode has a hotkey for quick access.
Features
Highly optimized can take unlimited screenshots
Built-in ragged edge splicing effects
Smart auto-naming of files
Ability to embed textual comments in files
Good multi-monitor support
Auto-scroll capture for windows having too big for screen sizes (media ports)
Full set of scanner acquisition tools
Perfect capture of Windows 7 partial transparency effects
The most powerful scrolling capture tool in the field
Easy and automatic uploading of screenshots to a wide range of image storage services like imageshack, flickr, ftp, etc
Great ragged edge splicing effects
Highly configurable to make it work the way you want it to
Lots of capture modes
Unique cool effects
Slimline sidebar file browser provides full shell operations
Optional automatic image file versioning
Seamless integration with Unicode Image Maker tool
Quick PostCapture PopUp Dialog
Autoscroll capture for windows too big for screen
Deluxe thumbnail maker
Automatically finds boundaries of non-rectangular/themed windows
Quick Screenshot Emailer Menu
Full-set of scanner acquisition tools and scanner image correction
If you have any suggestions to make this list more informative kindly let us know via comments. 🙂