If you are doing online business or working to build websites, freelance writer, blogging online or anything related to online business then you should know the value of best screen capturing software. Because a screen capturing software helps you to record your computer screen and your voice. Afterwards, the screen recording software help you to create tons of videos of your computer screen in which you can put a message that you want to convey to your website audience.
Yeah, that sounds amazing but do you know it is the toughest task known today. Because more than 60% software works only with license or others provide a watermark logo of the screen capturing software. And it is really hard to find best screen recording software online. In this way, I've collected a couple of best screen recording software that works in Windows PC amazing. Screen recording is a viable solution for any issue because the screen capturing software will let you make the whole process easy, simple, explainable and more importantly easily repeatable. In my words, if you are looking for screen recording software/tools then you are on the right place.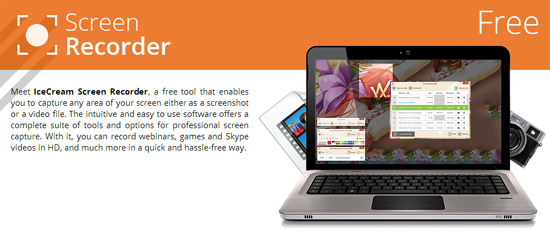 Best Screen Recording Software for Windows (PC)
IceCream screen recorder is a free computer screen recording software that helps you to capture any area of your computer screen either as an image screenshot or in a video file format. It is an intuitive and easy to use software offers a complete suite of tools and options for professional screen capture. Using Icecream screen recording software you can easily record video games screen, webinars, and Skype videos in HD, more. It's a quick and hassle-free way to record computer screen.  It support wide rang of operating systems such as Windows 8, Windows 7, Windows 2003, Windows 2000, Windows 8, Windows Vista, Windows XP, Windows Server 2008. Icecream Screen Recorder software offers area selection feature that lets focus on, whatever you want. You can use hotkeys to navigate through, audio settings, clipboard feature, screenshot to URL, project history are notable features of Icecream Screen Recorder.
Camtasia Studio is an amazing screen recording tool that anyone can use to record their computer screen. Currently, there are two supported OS by the software i.e., Windows and Mac. Camtasia allows you to use it is features for only 30 days of trial and then you will have to purchase the software if you don't it will stopped working because it is paid software. Camtasia Studio have great support for ongoing video editing features and proofs that it's not just a screen recording software and after the screen recording completed it helps you to modify your recorded videos professionally. You can seamlessly edit your recorded videos and add special external sounds, effects, cut, smartfocus, crop a video.
Jing yet another screen recording software from Camtasia Studio. It is really easy and amazing software that is available to download free. Try Jing screen capturing tool which is simple way to start sharing images and short videos of your computer screen. Whether for work, home, or play, Jing gives you the ability to add basic visual elements to your captures and share them fast. The best feature that Jing provide is voice recording from microphone instantly, at the time of video recording.
BB Flashback express screen capturing software comes with advanced features that helps you to record a commentary or PC sounds while recording the screen. So, if you are looking for a good screen recording software for free then bb flashback express is good choice. But there are 2 kinds of versions available for this software i.e., once a free and the other one is paid. BB FlashBack express software offers an easy to use interface to its users. Review your recording frame by frame with the movie player. BB FlashBack Express free screen recorder offers to easily upload your recorded videos to video sharing sites like YouTube, Blip.tv, Viddler or FTP with one-click upload functionality. You can also share your movie by sending a URL or embed it in a webpage. With bb flashback express you can save your recordings in Flash as well as AVI formats with full control over file size and quality. The concept of bb flashback express is great that it offers you to record, review and publish that's all.
ActivePresenter is a free, quick and an easy tool that helps you to easily capture your computer desktop-screen and create screencast. This software enrich your screencasts with voice-over, annotations, callouts, videos and graphics. You can even just record the screen and publish to desired output without additional editing thanks to smart capture technology. Simple, easy way to edit your recorded videos without any special experience, just  the way we use Photoshop to add effects, crop image, resize image etc. In ActivePresenter you can easily add audio, videos, cut, crop and delete. This software enables you to share your recorded videos on videos sharing websites (2013) and save these videos on your computer in many formats like MP4, AVI, WebM, WMV, video format.
ScreenCast-O-Matic is an amazing great web application for one-click screen recording on Windows or Mac computers with no install. This web-app lets you achieve easily what your goal in screen recording & videos capturing. With Screecast-O-matic you can create HD Videos and get your videos in many formats like MP4, FLV, AVI, and you can create animated GIFs images so easily with screencast-o-matic and lets you to directly upload it on YouTube. There is a computer software also that helps you achieve the same results as you have been getting with the web-app of ScreenCast-O-Matic. Download the software for PC here.