If you have been using Samsung Galaxy S5 then you should know that Samsung has already introduced its great fingerprint scanner feature in most of its Android devices and have been highlighted again and again. However it's not much like Apple fingerprint scanner however, you will have to swipe your finger over the homescreen button to actually go into fingerprint scanning process in your Galaxy S5. The fingerprint scanners have been using world-wide nowadays to authenticate in your Samsung account, potentially pay for things with PayPal, or by just swiping the finger over the home button to unlock your phone.
With Samsung Galaxy S5 fingerprint scanning feature you can create almost up to three different fingers, back it up with a password, and like I mentioned, use it to authenticate Samsung account, for PayPal payments, and use it as you do lock the screen.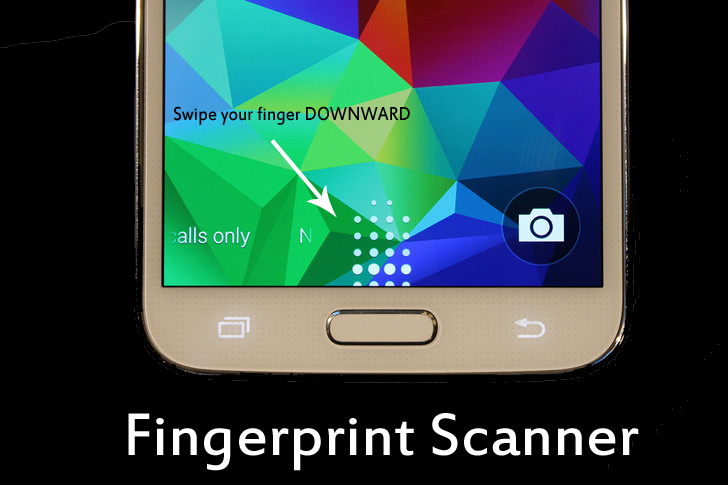 However, we have also add an article about How to Add Fingerprint Locker on Samsung Galaxy S5 which is PRANK method as mentioned in that article but the way that I'll show you in this article is about setting up fingerprint scanner on Samsung Galaxy S5 which is the built-in feature of Galaxy S5.
Here is how you can simply setup fingerprint scanner on Galaxy S5.
Setting up Fingerprint Scanner on Samsung Galaxy S5
Follow the steps below on you Galaxy S5 for setup fingerprint scanner:
Take your Galaxy S5 device and goto Menu first
Go to Settings from the Menu
Scroll down and tap over the Finger scanner
Here you will see a couple of great options which will allow you to setup fingerprint scanner lock on your device screen, on Samsung account by just swiping the finger to login, and Pay with PayPal
To setup a new fingerprint you will need to go through Menu → Settings → Finger Scanner →Fingerprint Manager
Here you will need to verify your previously entered fingerprint (Just like we do change password and the system ask us to verify the previous password in order to setup a new one)
You can register up to 3 fingerprints, to add a new fingerprint just hit + button
Now, you will need to accept (by hitting OK button) the disclaimer by the device that says:


In order for fingerprint recognition to function, your fingerprint information needs to be registered and stored in your device. After registering, you have the option to use your fingerprint for the following functions:
– Fingerprint lock (Usually known as Screen lock)
– Verify Samsung Account
– Pay using fingerprint

Finally, swipe down your finger 8 times to register your fingerprint, like:

Fingerprint Scanner Galaxy S5 Screenshot

Once, you done the above process your fingerprint will be registered and stored in your Galaxy S5 and become automatically ready to use.
If you have any problem with this comment below.