Samsung Kies is a desktop computer software that connects your Samsung smartphones with your PC to transfer data from PC to smartphone and vice versa. Samsung Kies also used to update your Samsung smartphones with your desire Firmware. When you connect your phone or tablet to Kies via a USB cable, you will be automatically notified of any available software updates (such as OTA Update, if found any officially) for your device. We're talking about the Official Firmware releases and not about Custom ROMs, or Unofficial Firmware. However, don't worry, I'll show you how to download the corresponding app that offers an update possibility apart from the classic OTA Update.
Okay, starting ahead let me tell you that it's an official application developed by Samsung this mean that you will not lose the warranty or anything like that by using Samsung Kies Mini. However, to take advantage and receive the latest updates coming from Samsung for your device, you should have the latest version of KIES Mini downloaded and installed on your smartphone.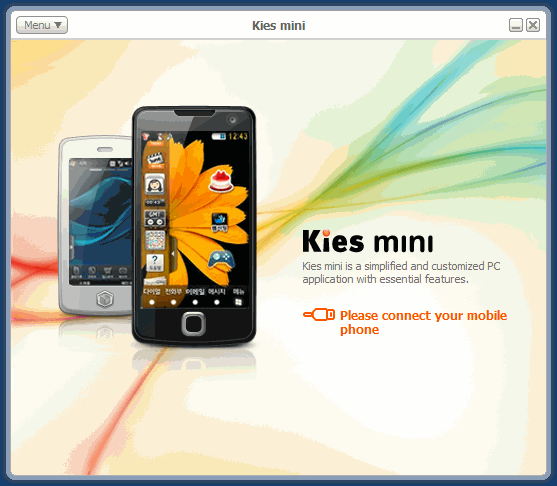 Recommended Reading: Free Download Odin 1.85 (another program developed by Samsung).
Make sure that you have Windows/Linux or MAC running on your PC with must have available a USB port. Finally, connect your PC with your smartphone via USB cord. Then, all you need to do is to download Kies Mini from here.
How to Install Kies Mini in Windows 7?
1. If you have downloaded the Samsung Kies Mini in your computer, simply double-click the Kies Mini icon 

 to run the software in your PC. Follow the steps below about installing kies mini in your computer running on Windows 7, as I'm using Windows 7 in my PC.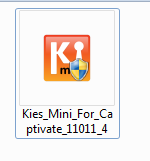 2. Now, one double clicking the kies icon, it will start preparing to install in your PC automatically. Please Wait…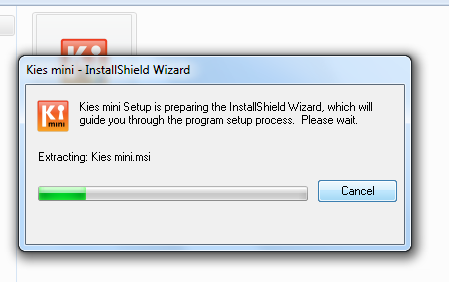 3. Select the location and language and by default it is (United States as Country with English language), simply click Next.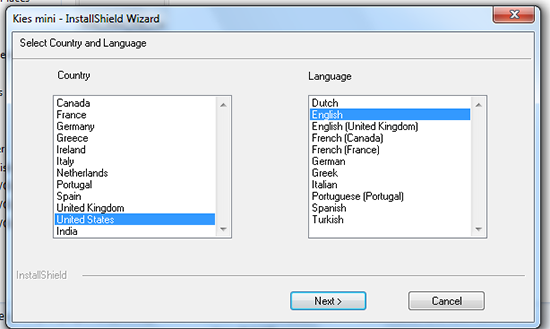 4. Select the destination folder where you want the software to be installed in your PC and accept the License agreement and click the Next button.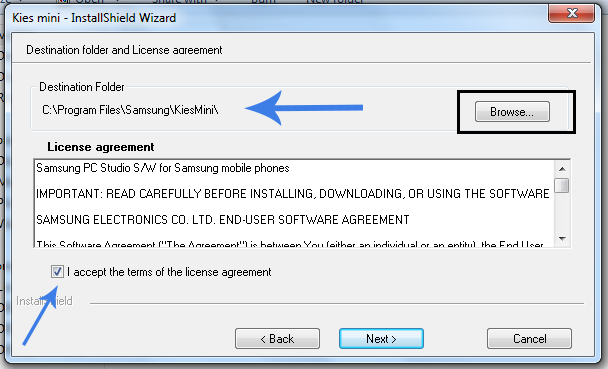 5. Here the Kies Mini will start installing in your PC and it will automatically install the drivers for the software.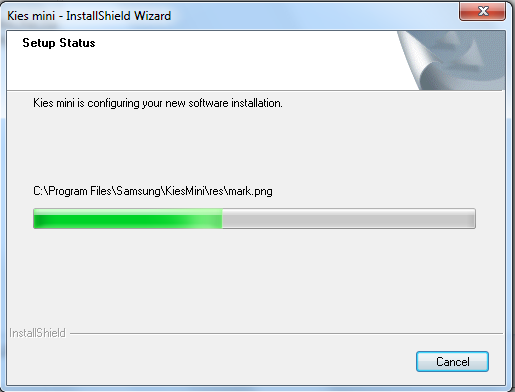 6. Congratulations, Samsung Kies Mini has been installed in your PC and the last step you need to take is to reboot your PC once.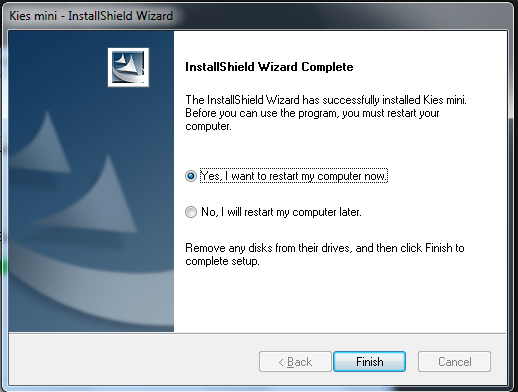 Upgrading Firmware Version in Samsung Smartphones with Samsung Kies Mini
Make sure that your PC must be connected with a live internet connection when upgrading your Samsung device using Kies Mini.
As a precaution, it's highly recommended to backup contacts, messages, and other critical information before applying this upgrade but it's not necessary however we should not take any risk click here.
Now, simply connect your phone to your PC using your USB cable.
Note: An automatic update to Kies Mini may occur when Kies Mini is launched.
Once you do this, you will need to select USB mode from your Android device as Kies (Firmware Update):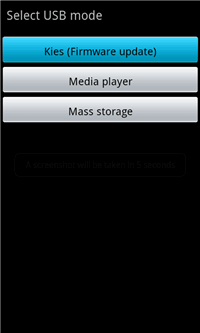 Here, the PC should detect new hardware and install the drivers automatically. And the rest of process become as easy as eating a PIZZA in Pizza Hut.
If you have any questions kindly comment below to let us know. We will try our best to answer.