No doubt that a Countdown clock can help us maintain our precious time. In this way, today I'm going to share a collection of Excellent 10 FREE Countdown Android Widgets. I am sure that you will like these Countdown Android Widgets and try to make a share to your favourite social media profiles.
By the way, there are many things that we can do with the help of countdown widget. Sometimes, we challenge with friends and make a countdown and race from one place to another, and many other things we usually do in our daily life with the help of countdown.
Excellent Countdown Android Widgets
Countdown Widget
Countdown widget is an easy-to-use, free app that reminds you about important events in your life.
Never miss another birthday, anniversary, wedding or sports event. Are you manually calculating days left until some special date like: retirement, graduation, delivering a baby, serving the army, shopping trip, salary, bonus, summer holiday, Christmas, New Year's Eve, ski trip? Did you ever forget important date and felt bad about it? Using the countdown widget, you will never miss one again.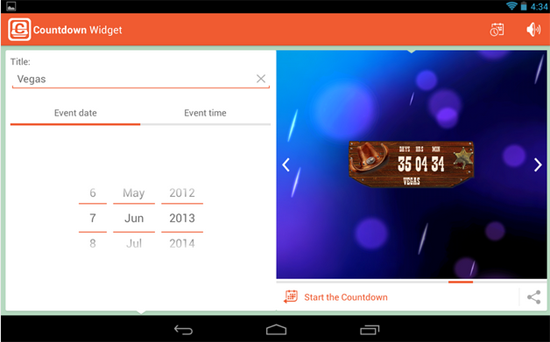 Days Left Widget
Days left Widget is a great application for Android that helps you manage everything on time by setting up daily countdowns to new years eve, to Christmas, to your birthday or to a totally random day.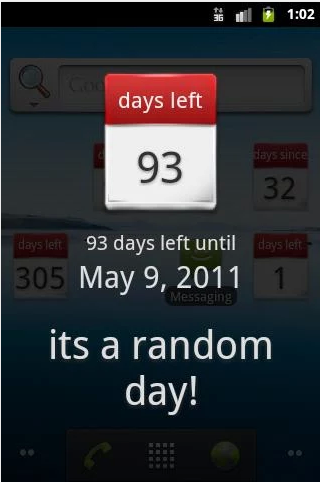 Event Countdown Widget
Don't forget the important dates of your life and organize your days till Christmas, your Mom's birthday, Thanksgiving, Easter, your anniversary or any events that you don't want to forget with Event Countdown Android Widget.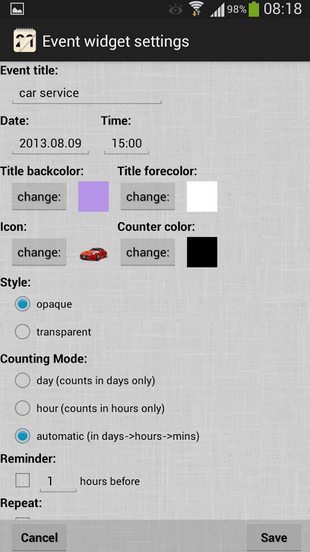 Countdown in Status Bar
Countdown days to any special event using Countdown in Status Bar. The Days Left are displayed in the status bar, easily countdown to your special events using Countdown in Status Bar.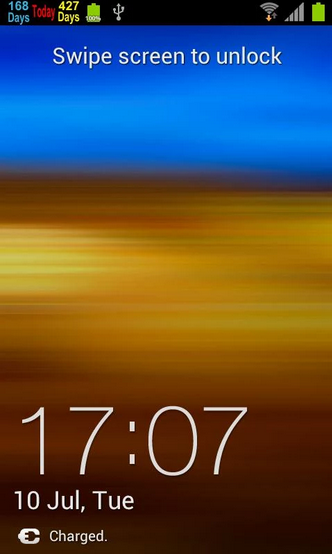 Final Countdown
Countdown to that events you have been looking forward: graduation, wedding, anniversary, Christmas, New Year, or a vacation you've planned with Final Countdown.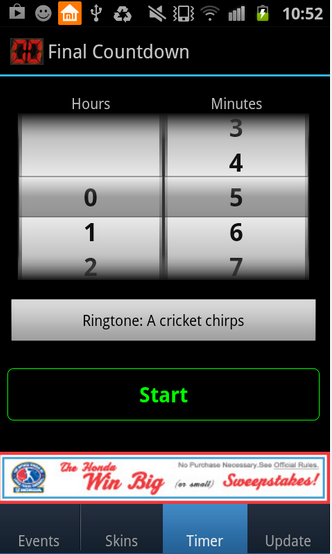 Birthday Countdown Widget
It's fun, Birthday Countdown can countdown to birthdays in many different units! Years, Months, Days, Hours, Minutes, Seconds or Heartbeats.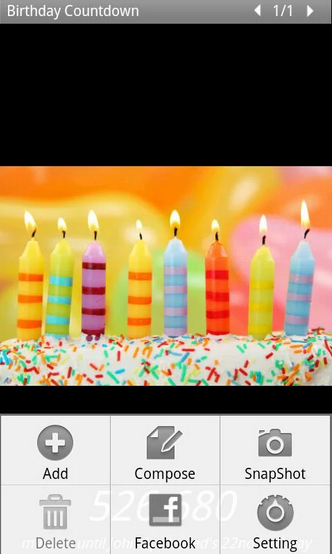 Bubbles like CountDown Widget
With Bubbles like CountDown Widget you will never miss another birthday, retirement date, anniversary, graduation event, wedding, exam, Christmas, football game or any other important date, including shopping sales.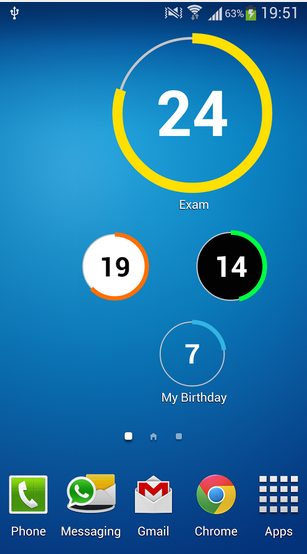 Stopwatch & Countdown Timer
The simple Stopwatch and Countdown Timer. Slide left and right to change view between Stopwatch and Countdown Timer.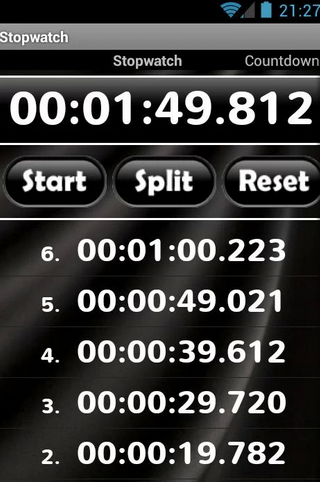 Days Until – countdown
Days Until is a light weight & clean countdown timer that displays the time left until a specified event along with sending you a reminder.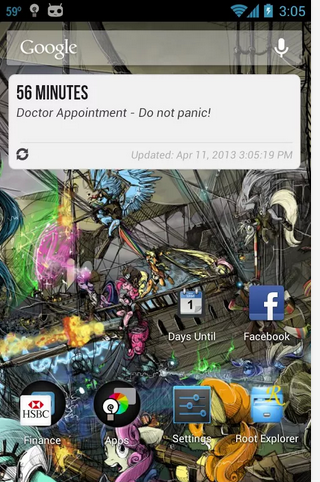 Countdown for SmartWatch
A minimalistic and beautiful count down timer for Sony SmartWatch.