Maintenance mode is one of the best idea that can use on under construction websites. In this way, I thought to give WordPress folks an idea about enabling maintenance mode on their WordPress blogs. So, I decided to write this article. By the way, it's pretty simple yet a good idea to enable maintenance mode in WordPress. Those who use WordPress as their blogging platform, now they can enable maintenance mode on future websites easily. If you are allow one of them try out this article and let us know about your experience with WordPress in comments below.
Easy maintenance Mode plugin enable you to quickly and easily create a maintenance page or an under construction page for your WordPress.
Features And Options:
Works with any WordPress Theme
Responsive
Provide Social connectivity(Facebook, Twitter, Google+)
Free Maintenance mode page template
Flexible and user-friendly setup
Live Preview of coming soon page
Very easy customization of page template setup
Simple admin settings and simple customization of Background Color, Background Image, Fonts color and fonts style etc..
Visible only non logged user.
Add Html content in description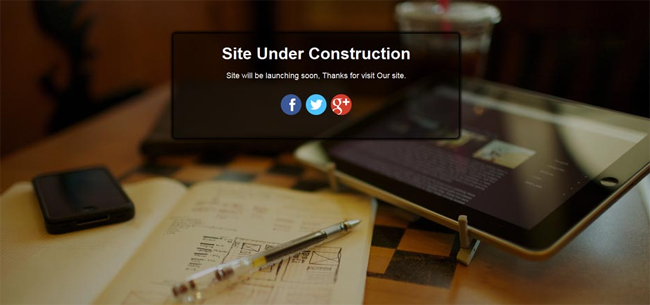 Enabling Maintenance Mode in WordPress
What I'm going to show you is that we actually going to enable maintenance mode in WordPress. First we need to install and activate Easy Maintenance Mode and now go to Easy Maintenance Mode under Settings tab and configure the under construction page for WordPress blog easily.