Sometimes, redirecting a specific post/page to another page maybe needed while blogging. Let me tell you why should you use a redirection plugin in your WordPress blog while you don't need to redirect any post/page to another page. But if you have tons of crawls errors, 404 not found errors, even broken links  in your blog then you can use one of these 15 best redirection plugins in your WordPress to redirect these crawls errors, 404 not found errors, broken links to homepage, or wherever you want them to be. I hope that you will surely like this list of best redirection plugins for WordPress.
With Redirection WordPress plugin you can manage 301 redirections, 404 errors, and generally tidy up any loose ends your site may have. You can keep track these errors and fix them any time whenever a new error found. It's really a useful plugin if you are migrating pages from an old website, or are changing the directory of your WordPress installation.
With Redirection plugin you can fix the following issues:
404 error monitoring – captures a log of 404 errors and allows you to easily map these to 301 redirects
Custom 'pass-through' redirections allowing you to pass a URL through to another page, file, or website.
Full logs for all redirected URLs
All URLs can be redirected, not just ones that don't exist
Redirection methods – redirect based upon login status, redirect to random pages, redirect based upon the referrer!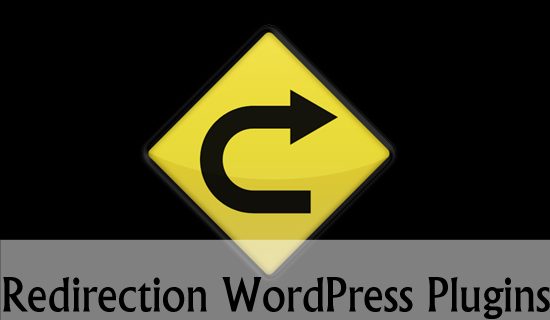 Quick Page/Post Redirect Plugin adds an option box to the edit section where you can easily specify which URL should have to be redirected, where to redirect, and how often you want a specific URL to be redirected, this includes temporary, permanent, or meta.
Define a set of redirect rules for specific users, users with specific roles, users with specific capabilities, and a blanket rule for all other users. Also, set a redirect URL for post-registration. All this stuff can be managed through Settings > Login/logout redirects which is plugin settings page.
404 Redirected allows WordPress admins to have control over their dead links and redirects from inside the admin panel. 404 Redirected records all URLs that users have visited and allows the admin to easily create 301 and 302 redirects to valid pages on their site.
Safe Redirect Manager is an HTTP redirect manager which is especially made for WordPress blog users. It's an easy-to-use UI allows you to redirect locations to new URL's with the HTTP status codes of your choosing.
SEO Redirect 301s is a WordPress plugin that remembers your old urls and redirects users to the updated url, to prevent 404s when urls change.
Source Redirect Site WordPress plugin redirects your site before loading any site content based on the specific source device, browser (mobile or standard), user role or login status, global location and also any Global State.
Fix multiple redirects and canonical redirects. And increase speed of WordPress fine url recognition for SEO by .htaccess file.
EPS 301 Redirects helps you manage and create 301 redirects for your WordPress blog. A robust interface allows you to select the Destination URL from drop-down menus, and validates your redirects for troubleshooting.
This plugin adds a new Post Type. Redirect from anywhere — to anywhere. A very lightweight plugin!
Based on Redirect plugin, xTechnos Redirect plugin Simply redirect using Custom Fields with Homepage redirect bug fix.
WP Domain Redirect plugin is used to redirect your domain based on country. It will catch the IP address of the system and identify the country and it will redirect to the domain intended for that country.
Easily redirect any post or page to another page with a dropdown menu or by manually typing in a URL.
Using 5sec Redirect WordPress plugin you can redirect any post, page, category, tag or custom URL to a new, internal or external URL. You can cloak any URL. You can see statistics for redirect rules. It's 100% SEO and referral links friendly, and many things are waiting if you use this plugin.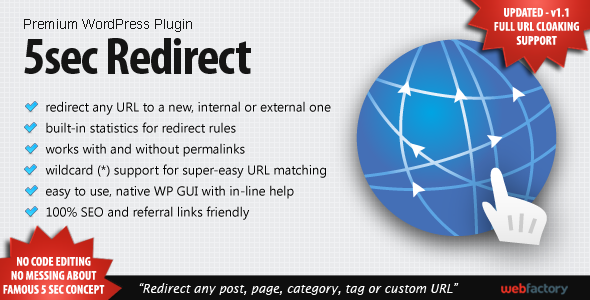 Easy Redirect WordPress is a WordPress plugin that allows site administrators, set up 301 redirects directly from the content editor. Simply enter the url you want to redirect and the plugin will automatically create the redirect 301 and tell the search engine robot to indicate that the page has moved definitively establishing another new direction.