In this article, I'm going to show you the responsive jQuery metro style navigation menus that you can benefit from in this year 2013. As I've just realized that the metro style is being used on many places. There are already many websites that are using metro style templates on their Blogger, WordPress, and Joomla blogging platform.
I have just collected this list of responsive jQuery metro style navigation menus from CodeCanyon. If you're here on this article and looking for metro style navigation menus for your website, this article will help you.
How you can use these jQuery Metro Style Navigation Menus
You can use these menus for web projects, in your WordPress themes, etc. Please don't forget to read the GPL license on CodeCanyon and then you can use these menus according to the license guidelines.
Responsive jQuery Metro Style Navigation Menus
Metrotabs is a light jQuery plugin that allows you to create metro style tabs seamlessly. Everything is customizable in MetroTab. You can align tabs whatever a tab contains the paragraphs, videos, images, iframes, etc.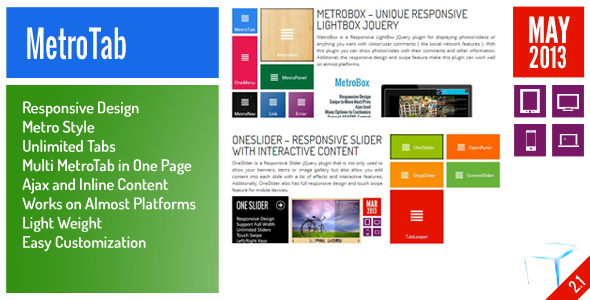 MetroPanel jQuery plugin will let you set two panel position i.e, left and right. You can add unlimited items within the metro style navigation menu. This plugin uses AJAX + HTML5 for better SEO and smart loading. The CSS3 is used to animation effects. Auto show/hide Panel feature is added to the MetroPanel. It's easy setup, with many options for custom.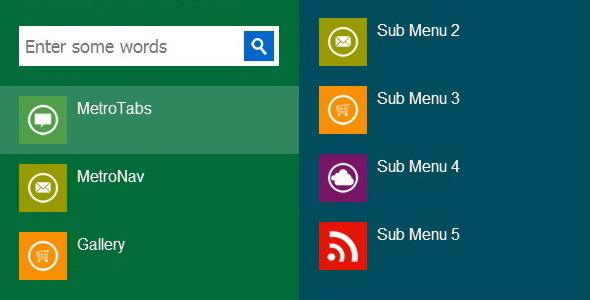 Metro UI is a flexible and easy to integrate framework to build your one page website in Windows 8 Metro UI. It's built up with modern web technologies like HTML5, CSS3 and JavaScript with plengy of options to configure it to suit your own needs.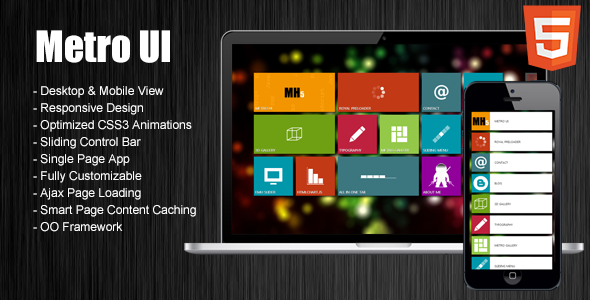 The Metro Flexible Navigation is a minimal, clean grid layout inspired by the new Windows 8 interface. It can be customized to be laid out horizontally or vertically. It's draggable and scrollable and contains useful sliding controls.
OneMenu is a jQuery navigation menu plugin that is created for Metro UI themes. OneMenu supports responsive design, unlimited menus. OneMenu jQuery plugin brings you responsive designs, unlimited menus, unlimited items in OneMenu. Works on almost platforms.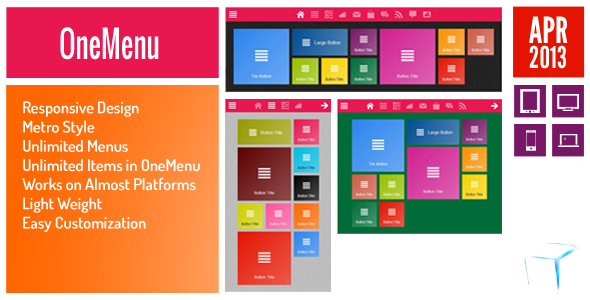 With this simple metro style navigation bar jQuery plugin, you can easily create Metro (now simply called Windows 8 UI) style navigation bars.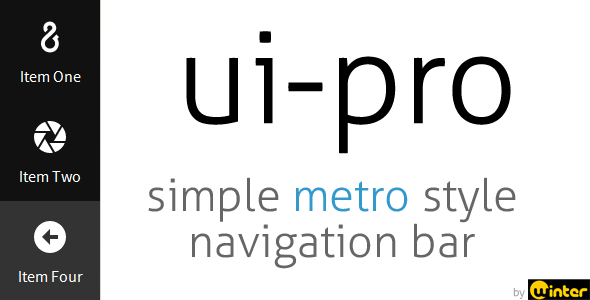 OpenPanel is a jQuery plugin that allows you to open panel at any where in your page, unlimited panels as you want and support for responsive design.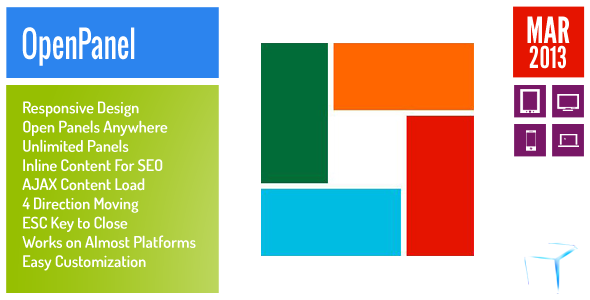 MetNav is a jQuery metro style navigation menu based on Window 8. It's very lightweight and works well on most of the major browsers.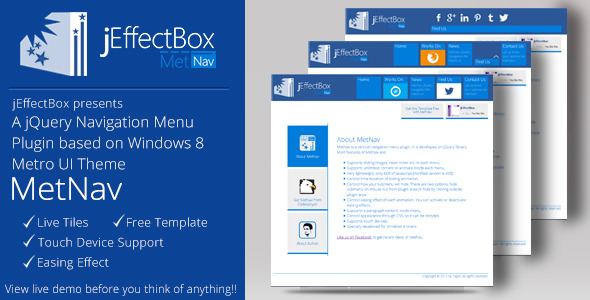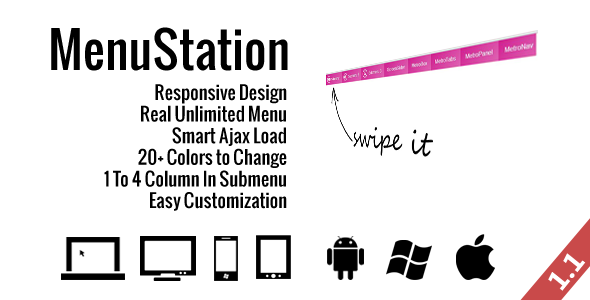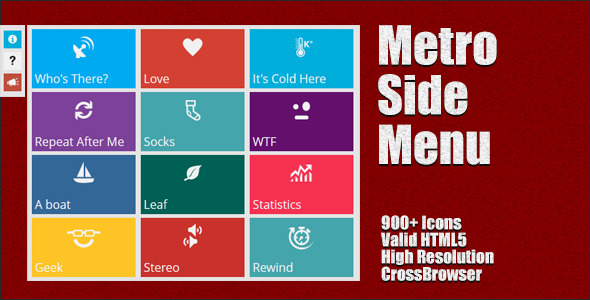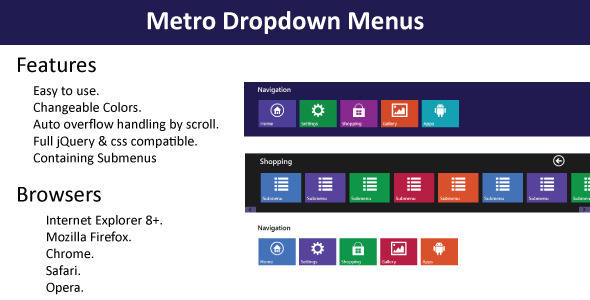 Inspired by the step by step movements of the shuffle dance and the new Metro UI look, Shuffling Tiles combines elements from both and then some, producing a versatile, animated and compact webpage widget.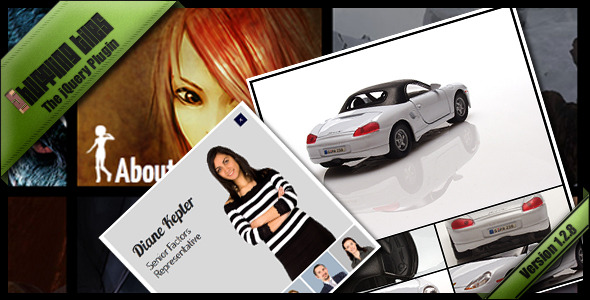 Vertu – Simple Mega Menu is simple and easy mega menu with many functions.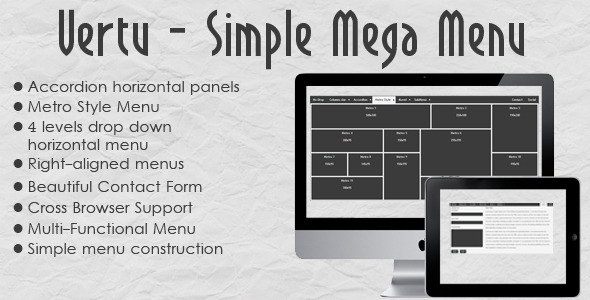 It's metro style dropdown menus designed and developed by Tahmidur Rafid.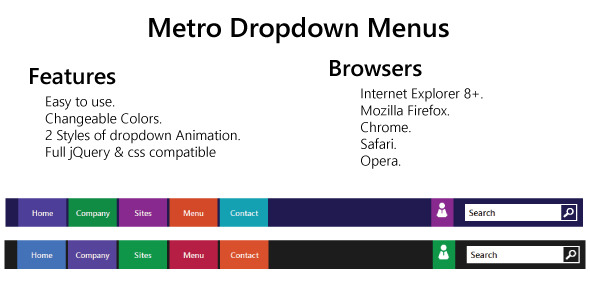 Our Metro Sidebar display a sidebar with metro style, ideal for use on tables of content, navigation menus or management interfaces.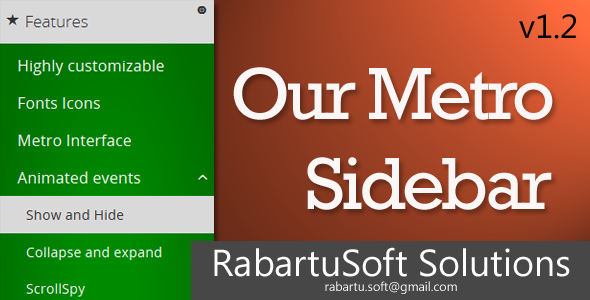 TabLooper is a Responsive Tab jQuery Plugin that is used to create tabs for your sites with responsive layout, support unlimited tabs, combine inline and AJAX content for best performance, move tab content by touch swipe event ( on mobile devices ) or left/right keys ( on desktop/laptop ) or simple click on buttons ( all devices ).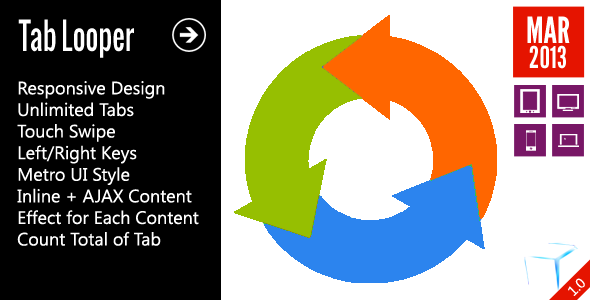 This is a Metro style pop-out navigation that can be used as a navigation menu, a one page site or a combination of both.