We all know that Bing.com is one of the second best search engines after Google but the unique thing about Bing is that it displays really amazing wallpapers behind its search bar as background image or let's say as screensaver or wallpaper. I myself tried to download one of their wallpapers when I was new to internet because they have got some really natural wallpapers.
So, today I'm going to teach you how to make all bing.com wallpapers as your computer's desktop wallpapers in Windows. Since, I'm using Windows 10 and I'm going to guide about it only so never mind if you don't using Windows.
How to set Bing Background Images as Wallpaper in Windows
Let's set Bing background images as wallpaper in Windows and if you want to make bing background images as your desktop wallpaper then follow the steps below:
Run the BingDesktopSetup.exe on your PC (size: 10 MB)
Just follow the instructions as we do while installing any software
However, once you are done installing software
Make sure you don't untick "Make the Bing homepage image your desktop background"as in the following screenshot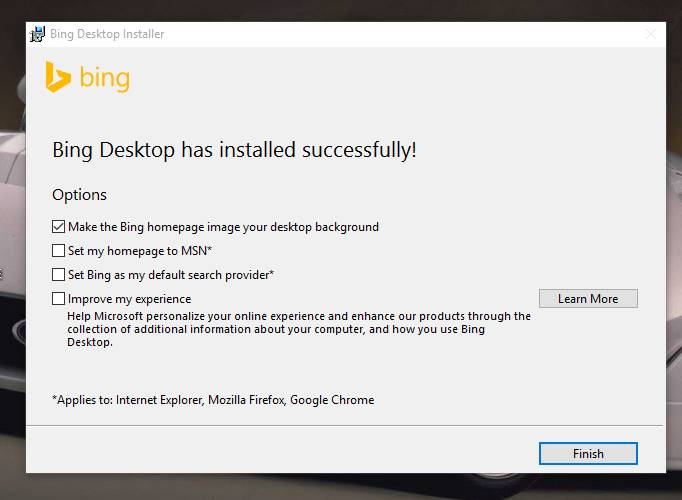 Fingers crossed! All set and ready to go. You can set your computer desktop wallpaper in just click of a button. Yep that's true! Following is the complete screenshot of my desktop where you can see one of the bing's wallpaper which I loved and I set that as my PC desktop wallpaper.
However, you can see the refresh button on top right corner after installing Bing Desktop software which allows you to replace your existing desktop image with one of the best bing background wallpapers. I've tried it already and now it is your turn.
Actually, I liked it. 🙂 And I hope you will like this way of changing your desktop wallpapers because it will be a lot time-saving machine for all of us. With BingDesktop.exe standalone software we can save a lot of our time and best part is that it is officially by Microsoft (no other parties are involved in making of this software).