In this article, I'm going to show you guys a very simple way to prevent invalid clicks and prevent AdSense account from being banned. I hope you are thinking that it isn't possible. Yes, you are right. It's not possible. But if you are right upon your Google AdSense policies then you must take a look on preventing invalid clicks from robots, jealous people, etc.
After today, you will have the complete control over how many times a user can click on your AdSense ads and he will not able to click more than that of specified number of clicks in plugin settings page. You can also click on your own ads if you like an ad showing on your site without getting your AdSense account banned.
AdSense Click-Fraud Monitoring WordPress plugin will monitor Click fraud for Google AdSense and every other pay-per-click advertising vendor. Minimize the risk to be banned and excluded from your AdSense account due to malicious third-party clicks on advertisements on your website. So install AdSense Click-Fraud Monitoring in your blog, and navigate to Plugins > Click-Fraud Monitor.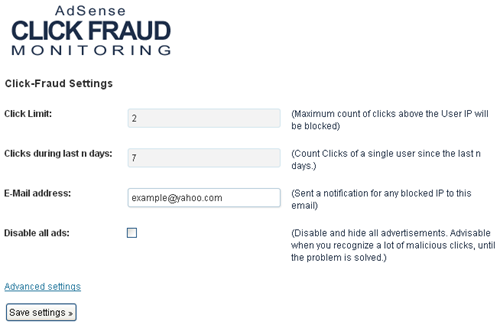 Where you will be able to configure the plugin settings according to your needs.