Google has announced the most recent version of its Android operating system as Android version Jelly Bean 4.3, with its new Nexus 7 tablet. The new version will also called Jelly Bean this is the third version that carry the same tag after Android 4.1 and Android 4.2. This version update comes from Google after nine months before Android 4.2. The new Android OS is being rolled out first in Google's own Nexus range of devices including the original Nexus 4, Nexus 7 Tab, Nexus 10 Tablet.
Let's take a look on Android 4.3 Jelly Bean Features.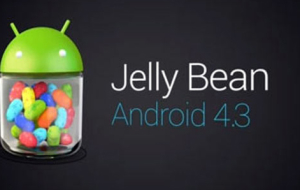 1. Smart Bluetooth Ready
Now, in Android 4.3 Jelly Bean Google seems to be making wearable technology by introducing the Bluetooth Smart Ready feature. Devices running Android 4.3 will now be able to support low-energy Bluetooth Smart accessories like heart rate monitors, pedometers, thermometers and many others. Users can now sync the low energy devices without these affecting the battery usage of the device.
2. Bluetooth AVRCP
By now, Google devices will be running on Android 4.3 Jelly Bean that can easily be sync with Bluetooth enabled car stereos and offer additional functionality. This Bluetooth AVRCP 1.3 version will allow stereos to display metadata effectively this includes the song names when music is being streamed from on Android 4.3 device.
3. Restricted profiles
Google has added multi-user profiles in the last iteration of Android and it seems the search engines giant wants to enhance that experience through restricted profiles.
4. Notification Access
A popular feature on Android yet with Android 4.3 the Notification bar has been added. You can control and interact with the status bar notifications.
5. Dial-pad Autocomplete
Android 4.3 Jelly Bean adds the auto-complete feature in the dial-pad suggesting contact names/phone numbers when a user start typing something.
6. OpenGL ES 3.0
You will be excited with OpenGL ES3.0 if you are a game junkie. This feature would let Android devices render high quality graphics in games and other apps.
7. Simplified Setup Wizard
Android Jelly Bean now supports corrections to user inputs while signing-in to the device, the first time. This is due to more streamlined user agreements.
8. Location accuracy features via Wi-Fi scan only mode
Google has now increased the location accuracy of Android devices by allowing location scanning via Wi-Fi.
9. Keyboard & input
Android 4.3 comes with an upgraded algorithm for tap-typing recognition that makes text input easier while chatting via messages or even while composing emails.
10. Hindi support lands on Android 4.3
Google has introduced native local language support to its operating system for Amharic, Africaans, Swahili, Hindi, and Zulu. Hindi has finally reached the stock Android operating platform.