Last year we had good response on icon packs Android apps in 2015, so our team have decided to list down best icon packs for Android users in 2018. You may also get a list of best theme launchers Android apps later but for now, let's download best icon packs to personalize your Android smartphone.
Icon packs can really personalize your Android device and give your Android apps a new look with new icons. New icons can be fun, you can try Android new icons with the Android versions. There are many Android icon pack apps that you can download in your smartphone and give your smartphone's icons new look. But in my opinion don't try 2 icon pack Android apps at the same time because they might cause conflict with each other.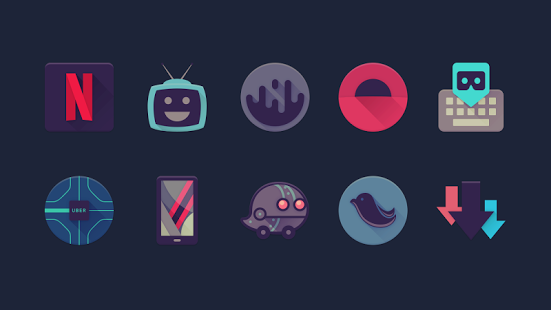 Best Icon Packs for Android Users in 2018
Moonrise Icon Pack
Moonrise icon pack is the great app ever that you can now use in your Android device to give your smartphone a new look, new icons, and much more. Don't worry it supports many Android theme launchers. You don't have to check for theme compatibility. Moonrise app have been designed using a unique color choice to portray the mix between moon and night, creating a distinct icon style.
Features
Along with 60 premium wallpapers and growing
Cloud-based wallpaper picker
Dynamic calendar support (Google Calendar Coming Soon)
Smart icon request tool
Manually designed in vector graphics
Over 1040+ Premium Icons and Growing (XXXHDPI 192×192 px)
Support for 20+ Launchers (given below)
Supported Launchers
Action, Apex, Aviate, CM, GO, Holo, Holo ICS, KK, L, LG Home, Lucid, Mini, Next, Nova, S, Smart, Smart Pro, Solo, TSF, Unicon, Xperia Home and more.
OREO 8 – Icon Pack
Oreo 8 icon pack app is great and gives your Android device a new look just like Android Oreo 8.0. You can use this app to turn your app icons just like Oreo 8.0 updated icons. It brings to you HD wallpapers with support of 12 different launchers.
Knight – Icon Pack
Knight icon pack gives you elegant and unique icon pack. Knight brings you 1450 newly born icons. 220×220 pixels resolution and you will astonished. All icons are made in the highest definition available for Android devices. The icons resolution is awesome, clean and clear.
Viral – Free Icon Pack
Viral is a collection of high quality resolution new age vintage icon pack. Viral icon packs come with uniform design with dark stylized icons. Viral icon pack app support multiple theme launcher Android apps. This app has the finest ultra sleek iconography with hundreds of wallpapers.
Features
cool color palettes
Professional quality design
Dynamic calendar (icon changes each day)
Android Oreo 8.0 settings shortcut styles
System styles: Nexus, HTC, Samsung, ASUS, LG, and more
Voxel – Icon Pack
Voxel Android app brings you with 3500+ high-quality icons with 192×192 resolution. This app brings you the best icon library with icon request tool that can get you any icon you want from the app developer. Voxel also gives you 20 best wallpapers with material design dashboard. You can download voxel icon pack app on your Andriod using the direct download link below.
Revolution Icon Pack
Revolution icon pack can give your Android apps icons a new look just like Google Pixel icons. It is full of 1500 hand-crafted icons with round like pixel launcher. This app doesn't require any permissions while installing it in your Android smartphone and no messy ads in the app user-interface either.  Revolution icon pack app is completely compatible with Android Nougat 7.1. You have provided dynamic calendar support with material design interface.
Download revolution icon pack APK
CandyCons – Icon Pack
CandyCons icon pack which uses material design color palette given by Google. Brings to you more than 1070 icons this supports for many launchers. More importantly, CandyCons has CyanogenMod theme engine support and Google's dynamic calendar supported.
Polycon Icon Pack
If you have been using Android then you probably know that you can simply install an Android app to change the icons on your smartphone and similarly Polycon icon pack beta is a great Android app that helps you to add beautiful, flat and material icons. Polycon is a new icon pack and it's here to bring your device a fresh new look.