Yet another app of the day is here…
Why I am calling Launcher for Phone 7 & Plus Android app, the app of the day because it makes your Android device to look more like iPhone 7 and plus with the help of its features. Who don't want to pretend to have the expensive phone holder? Of course everybody want to have iPhone 7 which is the expensive smartphone of today in 2017.
This app will definitely give your Android smartphone a look of iPhone 7 within OS by its attractive smooth icon packs designs and themes.
Launcher for Phone 7 & Plus for Android
Launcher for Phone 7 & Plus is an Android app with stylish, smart & personalized features that will make your android smartphone look outstanding (operating system wise). It is the lightweight Android launcher application that will help you to make your Android OS pretend as IOS. Launcher for Phone 7 & Plus is faster, easy to use, and even more beautiful that gives you an unprecedented experience.
With its quick touch you can work more productively fast, convenient and time-saving. With this app, you can make more shortcuts on-line soon…
If you don't like your Android operating system while you use it, then I suggest you that this app is especially for you. If you are bored with your Android UI then make use of launcher for phone 7 & plus.
This Android have made the sorting of other apps easier i.e., it automatically sort apps to games, social, lifestyle, media and system. Launcher for Phone 7 & plus is the simplest Android app yet easy to use.
Features:
Personalized: Sliding screen effect, icon pack, theme, wallpaper
Quick Touch: Fast, convenient, time-saving, one touch achieve
Hide App: Protect your privacy (hide apps if you don't want display them on desktop)
OS Search: Last used app, searches including apps, contacts, etc
OS Booster: Clear the memory to make your phone run faster
OS Market: Gathered the world's hottest and latest games and apps
Let me show you how your Android smartphone will look like after installing this app it. Make sure you have Android version up to ice cream sandwich version 4.0.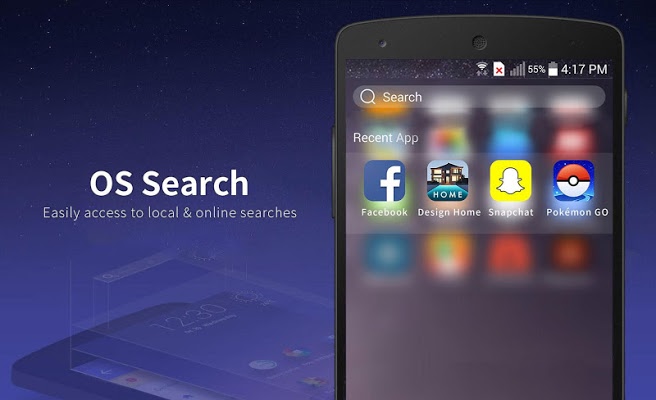 Download Launcher for Phone 7 & Plus for Android