Sucuri is a service for web-based security and is a great monitor for our weblogs which I recommend exclusively to my clients, readers, and to particular WordPress users. When I start my WordPress blog, there were lots of rumors about the WordPress hacking, usually most of the folks get stuck when determining what makes their blogs unprotected. In this article, we'll take a look at WordPress Sucuri plugin. Let's see how much better security can this plugin provide us.

Sucuri  Malware Scanner WordPress plugin checks for malware, spam, blacklisting and other security issues like .htaccess redirects codes, the hidden evil codes, etc. The best thing about it is, it's completely free.
You also can scan your site using online SiteCheck.Sucuri.net.
Check Your WordPress Blog via Sucuri Malware Scanner
You can check your WP blog against the malware, evil codes, .htaccess hacks using Sucuri Malware Scanner plugin and can remove them on one click action. Follow the steps below to get started with Sucuri:
Download, install and activate the WordPress Sucuri plugin
Move over under the Settings tab click on Sucuri Free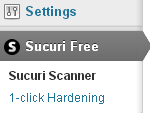 3. On this page, click the button Scan this site Now
The scanning process will pass through these of the following:
PHP Mailers
Phishing Attempts
Malicious Redirects in such files (.htaccess and .htpasswd)
Render JavaScript injections
Cross Site Scripting (XSS)
Hidden & Malicious iFrames
Black doors (e.g., C99, R57, Webshells)
Drive-by-Downloads
Anomly detection
Social Engineering Attacks
IP Cloaking
After the scan completed, the plugin will show you about the malware, blacklists, and WordPress Version is up to date or not…
4. Now, go to Sucuri Free > 1-Click Harden. On this page you can see some security issues regarding your WordPress installations.
Verify WordPress Version
Protect Uploads Directory (It's browsable)
Restrict wp-content Access (It's browsable)
Restrict wp-includes Access (It's browsable)
Verify PHP Version
See an example on how to fix that all above listed issues:

If your blog is experiencing an issue regarding uploads folder or any else, like above one then click the button Harden it! Sucuri plugin automatically restrict permissions who can browse such directories and can't.