If you have been working hard to make your WordPress multi-author site powerful so you don't have to check on each user who register with your site. Sometimes spam detecting registration plugin don't work but you site undergoes with brute force attacks. So, if you don't want your site to get spammy with spam users you much have to add OTP verification on user registration page of your WordPress site. In this article you will learn how to add OTV verification on WordPress user registration page i.e., email address confirmation or mobile number verification.
How to add OTP Verification in WordPress
OTP Verification plugin helps you to add an additional layer of security that sends a verification email or code after a user is registered. It is actually a good plugin that keeps your users database clean from spam and all of your site users have to verify the verification code (OTP) during registration, before they have any access to your site's admin panel 🙂
Another great thing that OTP Verification plugin does is, it automatically removes the possibility of a user registering with fake email address or even mobile phone number. The plugin checks the existence of the email address and mobile number and the ability of a user to access each one of them.
After submitting the registration form a verification email will be sent to you or if you used mobile number then an SMS with OTP will be sent and you have to enter the code to get verified.
Steps to activate OTP verification:
First of all install OTP verification plugin on your blog and go to settings page to set it up and specify where you wish to display verification after form submission.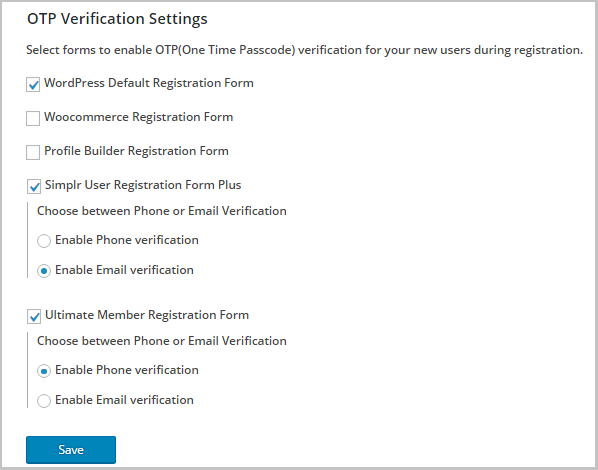 You can display OTP verification on the following forms:
WordPress default registration form
WooCommerce default registration form
Simplr registration form
ProfileBuilder registration form
Ultimate Member registration form