Web Studio PHP script gives a set of great tools for web developers available in just a single PHP script. It gives you a visual lightweight interface just like bootstrap design to make things more easy-to-use and understand.
On purchasing this PHP script you will be given an admin panel, with a ready docs about installation, clean and responsive interface.
Hoping that Web Studio PHP script would be your first choice, if you have just started learning as a web developer.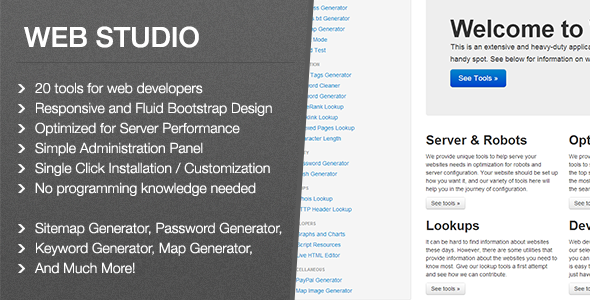 Best Key Features
Responsive and Bootstrap Design
20+ Online Tools are Included (See the list of  tools at the bottom of this article)
Neat and Well-Organized Interface
Administrator Panel
Enable or disable on single click action
You can change the settings of your website within seconds
Simple update checking
You can check/scan the performance reports
List of Tools
.htaccess file Generator
Robots.txt file Generator
XML Sitemap Generator
Robot Mode to check your site how crawlers see it
Website Speed Testing Tool
Meta Tags Generator
Keyword Cleaner
Keyword Generator
PageRank Checker
Backlink Lookup
Indexed Pages Checker
Character Length
Password Generator
Hash Generator – Convert text into MD5, SHA-1, or CRYPT
Whois Lookup to know who owns that website?
HTTP Header Lookup
Graphs and Charts
Live HTML Editor
PayPal Button Generator
Map Image Generator