Twitter Bootstrap admin WordPress theme is free to use. You can download it right from GitHub. And by-the-way, the same thing can be done using a WordPress plugin "Bootstrap Admin" created by the same web developer who did created Twitter Bootstrap admin WordPress theme. As we've already discussed about new WordPress admin theme "MP6" and now going to show you guys easy way to convert your admin design much like Twitter Bootstrap.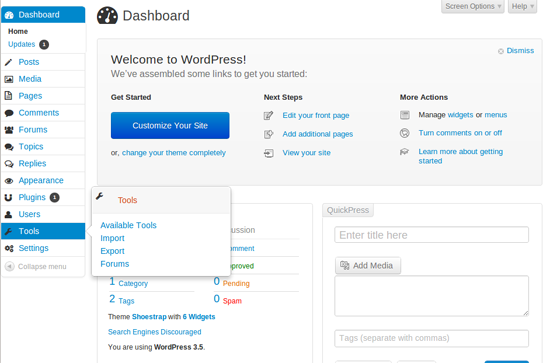 Features:
General styling of the wordpress admin area
Admin menu sub-menus as bootstrap popovers (they're actually very beautiful!)
Bootstrap Icons for a lot of things
Default WordPress forms theming
Buttons theming
Postboxes theming
Includes WPMUdev Pro-Sites optimizations
Includes WPMUdev MarketPress optimizations
Even more, and a lot more on the way!
Installations Guide:
Eventually, there is not any hard to make Twitter Bootstrap your WordPress admin theme. Install as you do install plugins and themes in WordPress.