Photo sharing sites let's you explore the best photos around the web. It's very hard to imagine and share photos with someone whom you love, and share such amazing movements captured to him/her of the good time that you have spent together in a particular place. Today, there are many photo sharing sites, that permit users to upload their individual photos on these photo sharing platforms which is not only the best way to take the photo from their cameras but also have to give them a secure place to back them up across the entire world. Photo sharing sites are now become advanced to make it easy to upload photos from your mobile devices to blogs as much as to publish on social media sites. Going through the post, many photo sharing sites are offering free account with different photo storage limits. Too many photo sharing sites are being arisen, out of them here are top 5 best photo sharing sites below: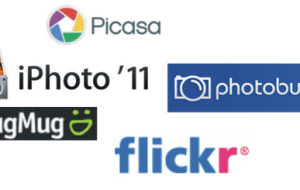 Flickr is one of the best photo sharing site across the entire web that offers you to upload up to 300 mega bytes free limit a month for a free account. But the pro account of Flickr offers to upload unlimited media storage for a little yearly fee. It was first founded in 2004 by Ludicorp company and then in 2005, it was acquired by Yahoo!. Accounts of Flickr are associated with the Yahoo mail accounts. Those, who have no account at Yahoo they can create one, otherwise they can sign in with their existing Facebook account and also by Google account.
Picasa is owned by Google being a Google product it is listed in the top first result in photo sharing review list. Picasa is very simple for new users. Once you download the Picasa software, install it. After being installed to your computer, Picasa automatically investigate from your computer's hard drive for photos and directly adds them to your online Picasa account. Picasa was first created by Lifescape company in 2002, afterwards it was acquired by Google in 2004.
PhotoBucket is a free and awesome photo sharing site, it gives to its users an unlimited photo storage space to their accounts and it's totally different from any other photo sharing sites. Users get a free liberal storage space on per account of about 500 videos. Register at PhotoBucket using an email address or existing accounts of Facebook and Twitter. Photobucket enables users to manage files utilizing tags, albums as well as slideshows. It is usually used for a personal photographic albums. It was created in 2003 by Alex and Darren Crystal, but at a time it was gained by Fox Interactive Media (News Corp) in 2007.
IPhoto is one of those huge photo sharing sites that provides the facility to store photos uploaded by users. With the amazing features of importing, editing, as much as organizing. It provides 5 Gaga Bytes of free storage space. It enables users to upload photos and music with the existing account. Register at IPhoto with ITunes account or by making a new account at iCloud. It was first released in 2002 and by Apple Inc.
Having same feature as should be in a photo sharing site it has acquired the position in one of those top photo sharing site that permit users to organize tags, slide shows and albums. Additionally it has provided HTML and CSS modifying options. In Smug Mug power and pro members who pay higher yearly membership fees, they have high uploading positions. Share your photos immediately on Facebook, Friendfeed, Twitter and Tumblr.