Out there on internet people especially internet geeks want to download an entire website in PC for offline reading. There maybe a couple of valid reasons about why they want to download a complete website in PC? The major reason should be research purpose and the others being only for reading obviously. But you can also download a complete website for offline reading and some people also use this technique because they don't have internet in their PCs and they go to internet cafes to get access of the internet or somewhere else to access internet like their friend's home. Downloading a complete website should be a most important thing for anyone who wants to read more and more without having internet access. However, no matter what is the actual reason of somebody who wants to download an entire website in his PC, this article will help you a lot.
Recommended reading: Download a Webpage Properly for Offline Reading
Download Complete Website in PC for Offline Reading
Well, I have found really interesting two computer software that allows you to download a full website right in your PC for you to read the website offline without internet access. Read the rest of article to know more about downloading a website in PC.
Following are the two software that will guide you:
---
1. HTTrack Website Copier
HTTrack website copier is an amazing website downloader that allows its users to download a website from the internet to PC (We can call it local directory). It is really good resource that will help those people who don't have internet access but want to read a website offline by downloading the site from internet cafe, friends home internet connection, etc. HTTrack website copier is good at building recursively all directories, fetching HTML, images, and other files from the server to your computer and create a folder and name it to the website that you just downloaded using this software. The arrangement process is good much like we use a regular website using an internet connection and all you need to is to open up the index.html file from the downloaded website folder to see the website in the browser being offline. As I said the arrangement process is so amazing and you can browse the site from link to link just the way we browser the website using internet connection. Must like downloading software HTTrack website copier have good support for resuming the downloading if it is corrupted by losing the internet connection accidentally.
How to use HTTrack Website Copier?
Download and install the HTTrack website copier in your PC. Once done, run the software by double-clicking over the icon already created on the desktop in your PC. A new window will appear from where you will need to click the Next button to start creating your first project about downloading a website to PC: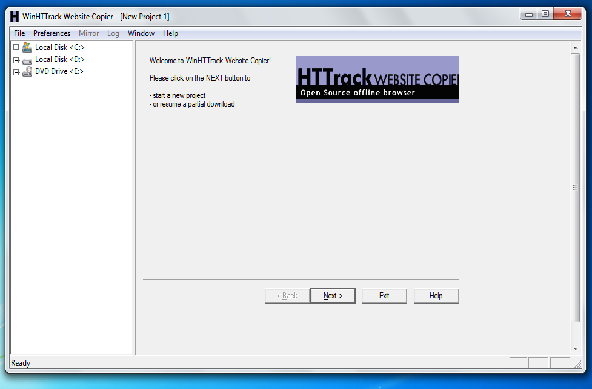 On this page, just name the project name (Just call it the name of the website you are downloading) and name of the category like this: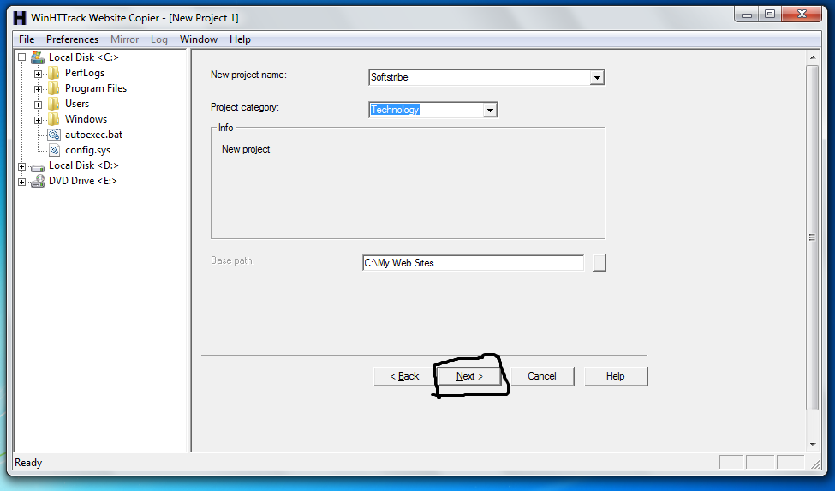 Finally, on the next page add the URL(s) of the website(s) that you want to download in your PC, and hit the Next button.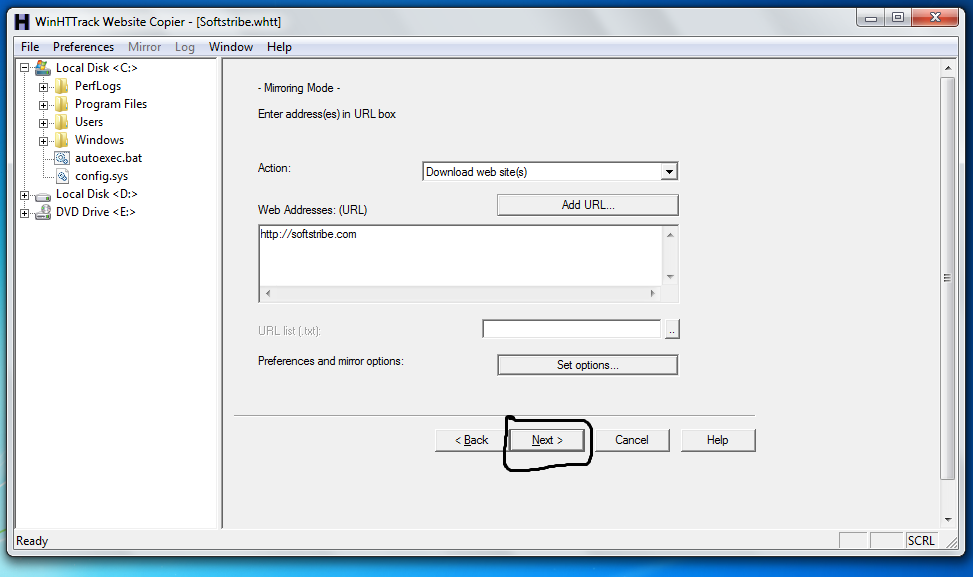 Now, we need to finish the process only setting up the parameters. And the software will begin downloading the website: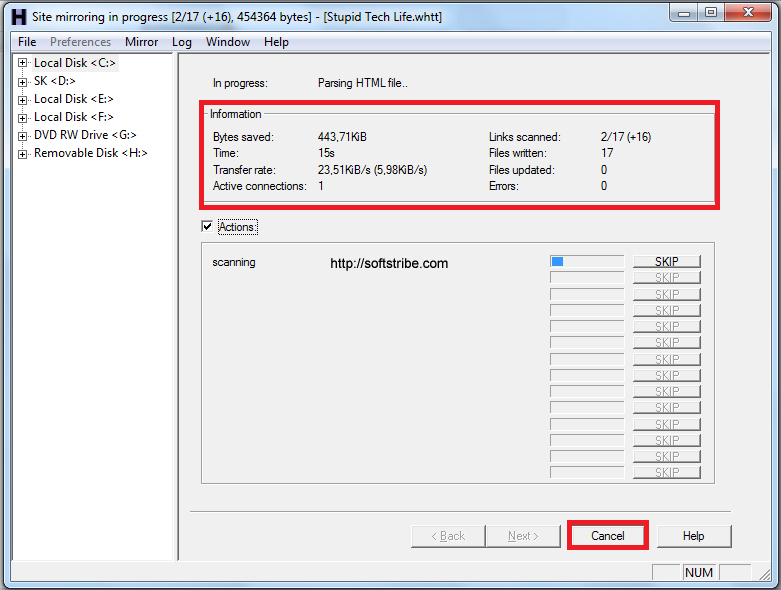 Now, you can see in the above screenshot the website downloading process has been started.
Website Ripper Copier
Website Ripper Copier (WRC) is a high-speed website downloading software that helps you to save entire website data right in your PC. This software has two kind of version i.e., Trial and PRO. You can download all kind of websites and website files to your computer hard drive for offline reading, browsing. This software has all kind of features that a downloading software should have. Website ripper copier arranges the files in such good manner and extract website files of a certain size and type, like image, video, picture, movie and music, retrieve a large number of files as a download manager with resumption support, and mirror sites.
Website Ripper Copier is the only website download tool that can resume broken downloads from HTTP, HTTPS and FTP connections, access password-protected sites, support Web cookies, analyze scripts, update retrieved sites or files, and launch more than fifty retrieval threads. With capabilities to update, retry, edit, delete, browse, and copy each task and unique filters, including filtration by link-inner-text (no other program of its kind has this), file type, size, name, URL, exploration depth, and server, it is a fully configurable, automated, multi-threaded website downloader, site ripper, website spider. Website Ripper Copier is suitable for novices, as well as for professionals.
Download a website via Internet Download Manager
Internet download manager (IDM) also allows us to download a full website in PC as you know that IDM is the most popular software that helps you download all kind of files from the web so easily. Once you download and installed the IDM in your PC, follow the steps below to download a website via internet download manager:
Run IDM on your PC by double-clicking over the IDM icon from your desktop
Once the IDM launched, click on the Grabber tab from top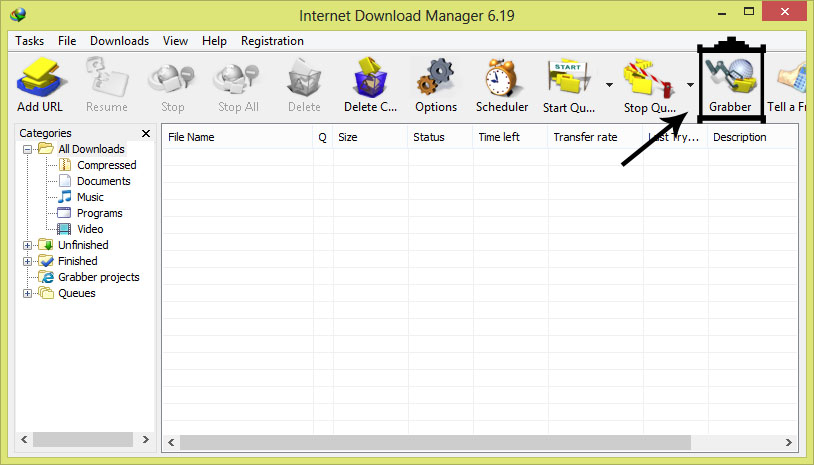 After clicking hte Grabber tab, you will see a popup window (Step#1) in which IDM asks you to set project name, URL of website you wish to download and allows you to select how would you like to download the site (I have chosen i.e., The Whole Website)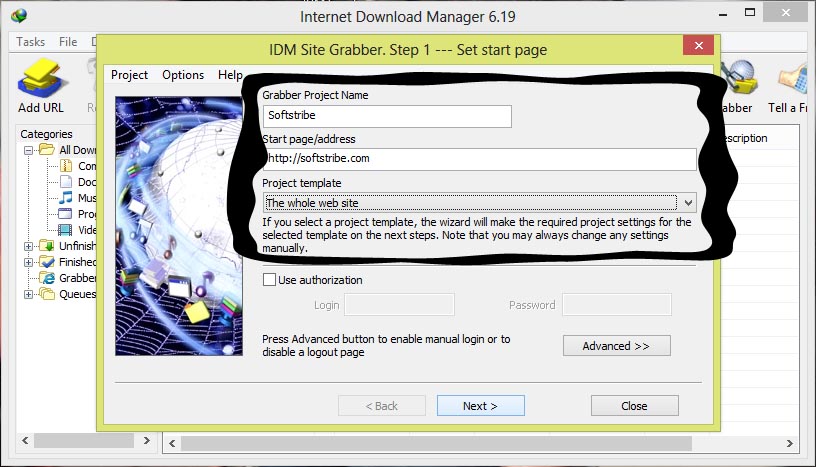 And hit the Next button, in step#2 you will be asked where you wish to store the entire website's downloaded files:
Finally, you will be able to download the whole website via internet download manager's grabber tool.
Conclusion
That's how we actually download a complete website in PC using the above software. If you have any questions kindly comment below I will do my best to solve them.