(Last Updated On: February 8, 2018)
IDM (Internet download manager) and uTorrent (utorrent alternatives for Android) both are most popular downloaded software for downloading internet files i.e., music, videos, games, movies and so on. People are dying to find a good solution for their PCs to have both IDM and utorrent ads free as well as non-premium version (say no to trial basis) stuff that IDM does itself. IDM gives you trial notification after 30 days trial period is over which I believe is really bad because there are people around the world who can't afford it right?
People have been looking for online downloading survival ;p am I right? So, I'm here with one of the best solution that will replace both IDM as well as uTorrent from your PC because it is completely free of cost and ads free. Yeah, that's right…
IDM + uTorrent (2 in 1 Free Download Manager)
Are you ready to replace your IDM + uTorrent with Free download manager 2 in 1 PC software?
You should be ready to do that, because following are the key features on why you will love free download manager.
Free download manager is a powerful modern download accelerator and organizer for Windows and Mac operating systems. Start downloading almost everything from the internet with 10 times fast internet downloading speed by splitting up the download file in pieces with free download manager.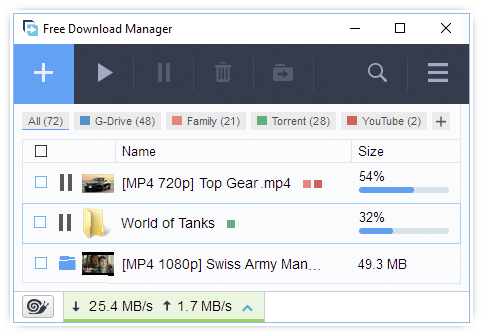 Key Features:
Following are the key features that free download manager offers:
Fast, safe and efficient downloading
Supports i.e., Windows + Mac OS
User-friendly interface with unique design
Video downloading from popular websites including YouTube (No need for IDM download video feature from YouTube anymore)
Proxy support
HTTP/HTTPS/FTP/BitTorrent support
Available in multi-languages: English, Spanish, German, French, Portuguese, Romanian, Polish, Dutch, Swedish, Italian and Danish
Free download manager (FDM) lets you adjust traffic usage, control file priorities for torrents, organize downloads, efficiently download large files and resume broken downloads. FDM can process media files of various popular formats, drag & drop URLs right from a web browser as well as simultaneously download multiple files. Google chrome extension for FDM is also made available to you for free to add FDM download button on downloadable stuff automatically. Free download manager is compatible: Google Chrome, Microsoft Edge, Mozilla Firefox, Internet Explorer and Safari.
Comment your opinions about free download manager (FDM) below please.