It's a Sponsored Article by Emily Williams.
MotoPress Content Editor is a new plugin for managing the website content. It replaces the WordPress default editor functionality and gives you all possibilities to edit content in a much more spectacular way. A few minutes are enough to create a new web page. It includes adding various content items, managing WordPress posts without boring HTML tags or any other difficulties. The major benefit of MotoPress content Editor is the compatibility with any WordPress theme.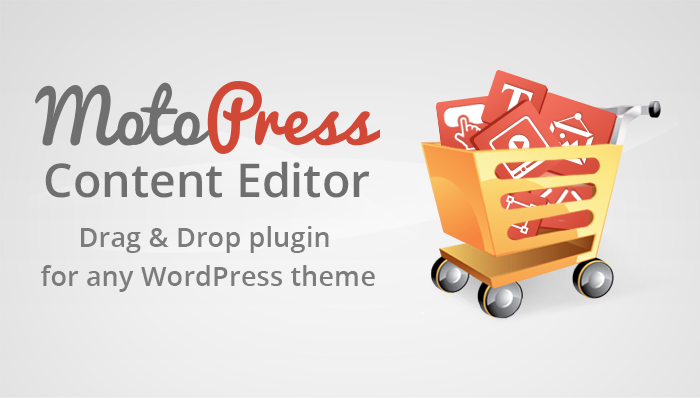 Within an easy-to-use MotoPress admin panel users can modify built-in post elements
Text format
Fonts of the titles and sub-headings
Text color and size
Text style by choosing the text alignment
Spaces after paragraphs
Bulleted and numbered lists
The plugin also makes possible adding images, video files and even buttons in a breeze and drag and drop any object of your article without efforts.
You can try how it works right now, its demo version shows you all plugin advantages and surely won't leave you indifferent.
Your skill level doesn't matter for using this handy tool. Any WordPress user will find MotoPress Content Editor nothing but helpful. Customize your content and right at the same moment enjoy the look of your article. Both starters and experienced users will be pleased with the functionality of the plugin.
As MotoPress Content Editor works with any WordPress theme possibility of implementing the plugin into the website templates is a new way to simplify modifying sites for users.
The main advantages of using MotoPress Content editor
Live website customization
The final look of your edited post is visible in the working area while embedding images or changing text properties. This handy tool simplifies the process of bringing your website content to order as you don't need to use WordPress tags for it. Just enjoy creating an original look of your web page.
Multisite Compatibility
MotoPress Content Editor is compatible with your entire multi-site network. The plugin allows site owners to manage and customize several blogs at once.
Drag and Drop interface
It allows you to move any content elements on your page quickly and easily – and do these changes only with your mouse. Thereby using MotoPress Content Editor makes the work with your content a piece of cake – you don't need to touch a single line of code. You've got that right – this means no coding knowledge is required.
A great deal of options
Adding page parts and verifying objects is not a problem with MotoPress Content editor. Every element has many different options to control a particular section of the page or the entire page.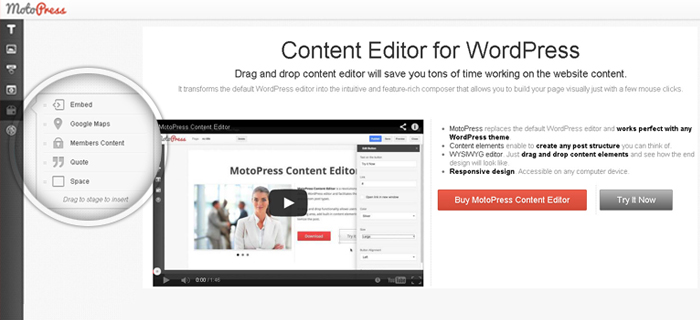 Completely Adjustable
The possibility to create advanced layouts using columns, changeable responsive dimensions – all these opportunities and even more you will get with MotoPress Content editor.
Responsive design
People can't imagine a day without their tablets or mobile phones and that is why MotoPress Content editor gives you a chance to create a look of your web page via any mobile device. Automatic transformation of the website layout depends on a screen size only.
Premade UI system
Multiple parameters of each content item are available for use in order to satisfy any users' desires in using attributes.
Multilingual Ready
Just as with anything else in MotoPress, having everything translated into different languages will become easy as 1-2-3.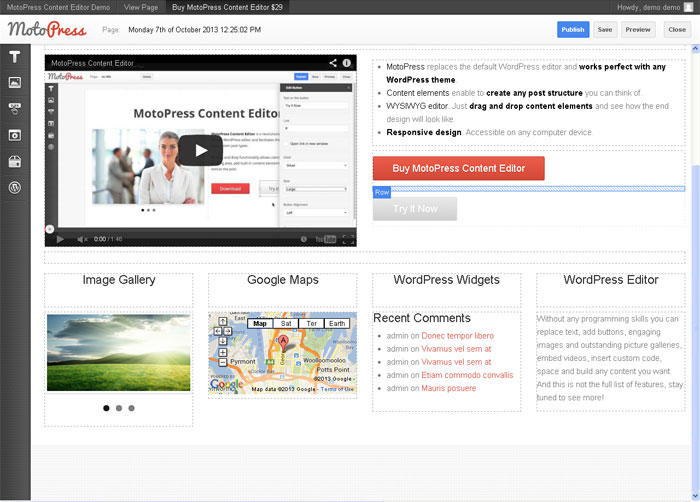 Make use of even more options than are listed above:
Easy-to-understand guidelines
The step-by-step guide provides users with all necessary info on how to embed the editor into the WordPress theme and start its usage.
Round-the-clock Support
Our team is here to help if you have any questions or problems while using MotoPress Content editor. We guarantee you'll receive quick response to your ticket. Also you can try to find information you need in FAQ section.
Updates
We are improving our product constantly. Each new version of MotoPress editor usually includes many new qualities and options you may use. Our team will inform you as soon as we have something to share, so you'll never miss it.
Native WordPress update process
You don't need to check the updates of the plugin on our official website every day. If MotoPress new version is available it will be shown on the Dashboard Panel and on the Plugin List. You surely won't miss it.
Regular License
Together with the plugin you'll have a permission to use it for a single WordPress site, which is guaranteed by our Regular License. Pay attention that you are not permitted to distribute the source files. Developer License will be available very soon, as we are already working on it.
If you are looking for a way to create an original look of you page quickly, start working with MotoPress Content Editor! It facilitates the changing of your post structure and editing the content. It can be embedded to any WordPress theme, so don't hesitate and try the plugin in action!
Multi-site and Developer licenses
Multi-site license and license for the developers will be available next week. Stay in touch @motopressapp to be up to date with all MotoPress news.