Well, sometimes we want to convert some big tags into main categories which usually known as taxonomy conversion. So, if you are facing the same problem and want to convert tags to categories or vice versa (categories to tags) simply follow this guide.
In this article I'll show you how to convert tags to categories or vice versa in WordPress. It's not that big deal.
Converting Tags to Categories or Vice Versa in WordPress
Taxonomy Converter WordPress plugin lets you copy or convert terms between taxonomies such as tags and categories in your WordPress blog. This plugin also support any other custom taxonomies that may be present with your active theme and plugins.
This plugin, based on Categories to Tags Converter, allows you to copy (duplicate) or convert (move) terms from one taxonomy to another or to multiple taxonomies, while maintaining associated posts.
How Taxonomy Converter Works?
Follow the steps below:
Once you install Taxonomy Converter in your WordPress blog
Go to the Tools → Import screen
Click on Taxonomy Converter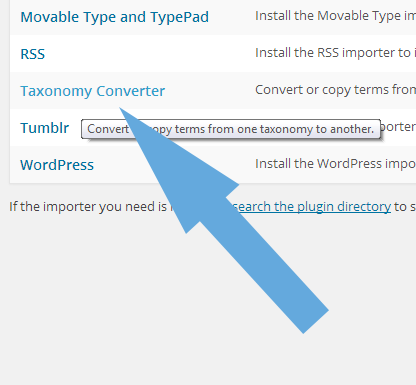 Finally, copy or convert the taxonomies as you want them to be…