We all know that the most prominent power of Google Android is customizability! However, some manufacturers of Android Smartphones exploit this ability of Android to add all their applications & services (most probably useless) to the User Interface of Android Smartphone, particularly launcher and app drawer. Nevertheless, we can use the same ability of Android to fight this irritating issue! Yes, you can utilize a third-party Android launcher to rectify experience of Android by simplifying its User Interface. But, selecting an Android launcher from that huge list will be a tiresome task for most of you, and we are here to help you accomplish that task. In this article, we would like to introduce one of the best Android launchers you shall grab for your Android Smartphones and Tablet PCs – MoboLive — if they are running v2.1 or later versions. So, in this post, we will not only have a detailed view onto prominent features of this android launcher but also let you know our opinion about this. First of all, we will give you a basic introduction about MoboLive.
MoboLive – What You Should Know
MoboLive is one of the most customizable Android launchers and you must check out. When we have a word of comparison between MoboLive and other Android launchers in market, it seems clear that MoboLive does focus on not only visual improvement of UI of Android but also productive side of your Smartphone. For the latter purpose, it has included some awesome features, which we will mention later. Now, we will tell you about look and feel of this superb Android launcher.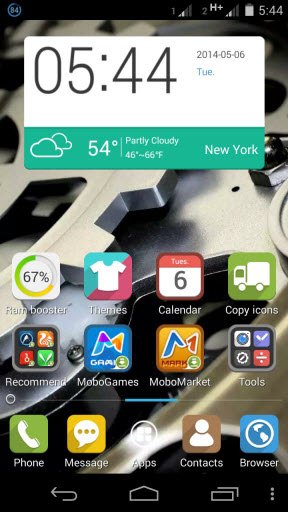 Look & Feel
We've used a number of Android launchers in our Android devices. When we compare MoboLive with them, it's very clear that MoboLive has followed an extremely simple but effective design! The design is very easy to use, but never lacks features. MoboLive home screens are completely customizable; you can go to the settings section and decide number of grids and screens that you want in home screen section and app drawer. Another factor we loved in this is the presence of amazing transition effects for both home screens and app drawer. Apart from normal transition effect, we have an option to set a 'tap transition'. By enabling that feature and selecting a transition, you can see a special effect whenever you touch in home screen of device. Also, MoboLive lets you import icons from previous launcher; it just needs a tap to do it.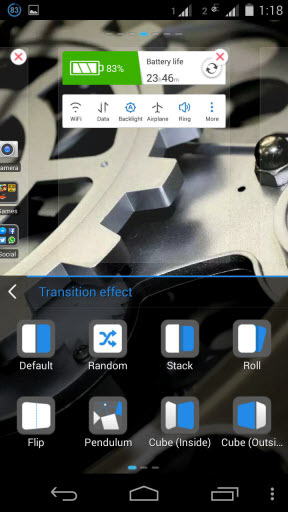 Another impressive feature we found in MoboLive is an exclusive store to download themes! Though default theme is quite beautiful, you can have a look into the awesome collection of MoboLive if you want more. The collection is quite impressive, indeed.
Availability of Widgets
Another prominent feature of MoboLive that we loved is availability of some useful widgets. For instance, by default, there is a weather widget in home screen of MoboLive, which will provide weather information of provided location. Likewise, a battery widget and memo widget are there, which help us know device battery stats and create memos respectively. There is a RAM Booster widget as well, which manages background tasks and boosts RAM to increase speed of your Smartphone.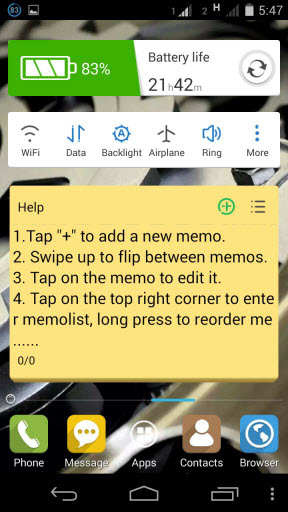 Additional Features
You might have seen several Android launchers by now! However, MoboLive is quite different when we consider the case of additional features. Although it has many features, some of such features we loved are as follows.
Apart from features, we mentioned earlier, MoboLive consists of an in-built battery management application in it. By using this application, you can detect issues causing draining of battery and optimize them to extend battery life. In addition, there is an option to use preset modes or create your own mode to save battery. At the same time, control panel available in home screen makes it easier to manage connectivity features with single taps, which will in turn help you in increasing battery life of your Smartphone.
More than often, quite accidentally, Smartphone home screen gets messed up. However, MoboLive has found an effective solution for this. When you have set up the layout and icons of home screen, you can apply 'Lock Desktop' option to lock home screen.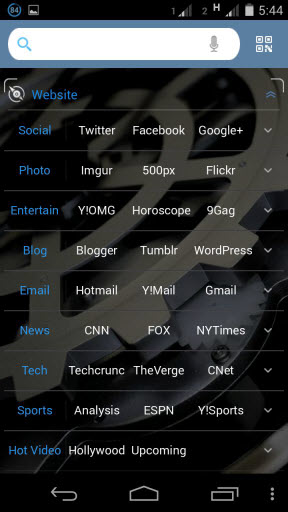 Also, users can download and install several tools in launcher itself. For instance, you can download a QR Scanner for MoboLive and use it for scanning QR Codes, whereas the Flashlight plugin will make your Smartphone serve purpose of torchlight in certain situations.
A special feature called Scene Theme Demo is present in this launcher. To access this feature, you've to swipe down using two fingers. Then you can see a menu consisting of available themes, and you can select the desired theme to be applied on launcher.
Miscellaneous Features
Ability to hide specific Applications in app drawer
Customizable icons and folders
Quick access panel and spotlight search
It's Time for Decision
When considering what we said above, MoboLive is something great if you are looking for an impressive alternative for your default Android launcher. This launcher gives equal emphasis on productivity and looks, which is a big deal. What do you think about MoboLive? We are eager to know your opinion.