Yoast SEO WordPress plugin is really amazing which helps you to make your website SEO better and let's you edit your blog posts, pages and custom post types titles, meta descriptions and meta keywords very easily with a quick search preview which shows you how the post/page will be listed in search result if published 🙂
Yeah, that's pretty cool and people love this plugin very much. If you have installed Yoast WordPress plugin then you must have to setup the plugin correctly. To do so, there are many Yoast SEO WordPress plugin setting up guides on internet but that'll take your time to read each on of them.
So, I just decided to share the import file of recommended settings for Yoast SEO plugin so you don't have to go into each tab of Yoast settings to fill in the information. Just import the .zip file and you are done.
Recommended Settings for Yoast SEO Plugin
Yeah, you are right! We are talking about Yoast tools.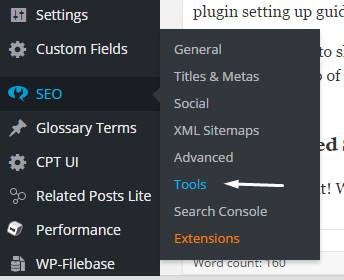 So, you have you provided 3 different tools by Yoast to make things easy for you. Each one of them (tools) do their jobs and helps you make your website's SEO better.
Click on Import and Export

Now, all you need to do is to upload the following .zip file on the import and export Yoast settings page, that'll automatically apply the recommended settings on your WordPress site and you don't have to set things up manually.

Download the recommended settings for Yoast SEO plugin