Pricing tables help us maintain, our plans page where we offer people about our services and show the features, dues of our services in a pricing table. Creating a pricing table is much complicated task for common people those who don't know about web development languages and use Blogging platforms alternatively. I'm going to show you how to create responsive CSS3 pricing tables in WordPress blog?
WP Pricing Table
WP Pricing Table is a WordPress plugin that can let's you create responsive CSS3 pricing tables. However, this plugin is came up with two different plan. Once its free and you can use it by downloading it from free WordPress plugins repository and other one is pro version (worth $15.49).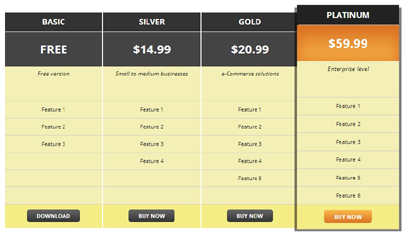 Free Version
You can add pricing table
Show a comparison between your products
Easy-to-use price table
Responsive layout
Built with CSS3
No advertising or links
Eventually, you can only add 2 coloumns with free version, more will be added if you purchases the pro version
Pro Version
You can create multiple price tables
Customize the colors of your price table
Up to 8 products can be added
Up to 10 features per product
Add descriptions to your products
You can show a comparison of your products
Built with CSS3
Responsive layout
No advertising or links
Get the WP Pricing Table Pro Version for only $15.99 and get updates for free forever!