jQuery Alpha Image plugin can change the selected colours to transparent in any image and give result as image or image-data. And this simple plugin works fine in IE9+, Firefox, Chrome, and Safari. as we have tested it but it's not working in Opera.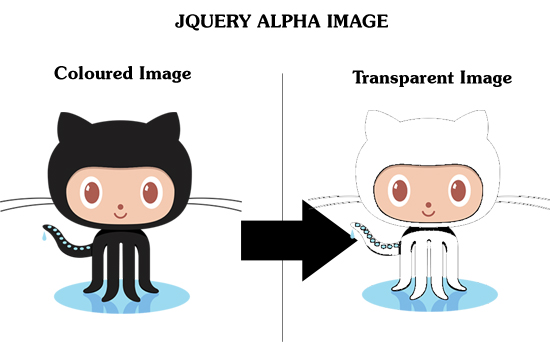 Usage
include the latest version jQuery in your page
include the latest version this plugin
use .alphaimage() to iframe that you want to fix
also you can install this plugin using Jam.js or Bower (plugin name : Jquery-Alpha-Image)
Examples is in the /Examples/ folder.
Options
colour: HEX Code or RGB (0,0,0) Code that you want to change to transparent (default : "")
onlyData: When completed, plugin returns result that has Image and Image Data. (default : false)
onComplete: If you change onlyData option to true, it works when image processing completed.
Moreover click here.