If you have an Android smartphone, then you probably know the power of Android. It allows you to do almost everything from entertainment to office work. No doubt that Android has become one of the best mobile operating systems in the world. People loving Android more than Apple iOS these days. If your internal storage is big, you can install as many apps as you like and enjoy playing games. Being an Android user, I decided to write this article about how to play Android apps and games on PC. I know, people want to use Android on Windows/Mac OS to get the most out of Android services.
Please don't skip anything from this article, if you want to install Android OS on your Windows or Mac iOS running PC.
BlueStacks App Player Overview
BlueStacks app player allows you to run Android apps on a Windows 7, 8 or 10. It is the alpha version of an emulator that allows you to use Android on PC. It works as a widget and when we click on BlueStacks App Player widget this will show the most used top 10 apps depending on the volume of downloads.
This app player is a good source to start running Android apps on a PC. It has a great and easy-to-use UI (User interface). With BlueStacks App Player you will be able to install new Android apps on your PC simply by clicking the Get More Apps button.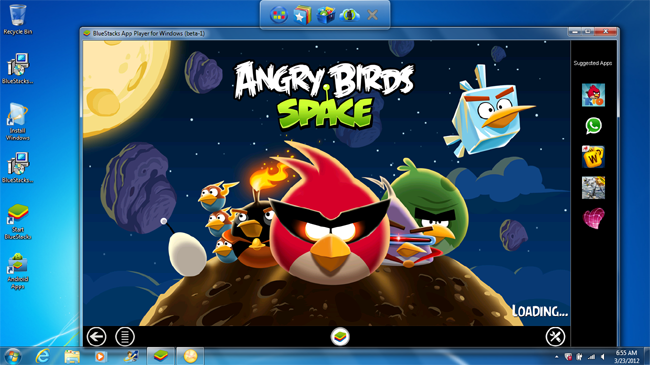 Free Download BlueStacks App Player
To install BlueStacks App Player in your PC check if your PC is able to run this software, there are system requirements in order to work with BlueStacks App Player properly:
System Requirements OS
Windows XP, Vista, 7, 8, 8.1, Mac
1 GB RAM minimum
Pentium 4, or Dual Core, Core 2 Due
15 MB Hard drive space required minimum
If your computer has all the minimum requirements above, you can install the BlueStacks App Player program on your computer without any hesitation.