The permalink of the post plays a good role if you want to make your site more search engine friendly. Because the default permalink structure something like www.myblog.com/?p123 doesn't make any sense. It's not pretty good or let's say not helpful for SEO purposes, as you can see that the mentioned blog post's URL doesn't contain keywords which you really Wanna accomplish the result for in search engine. In this article I'll show you why should use permalinks.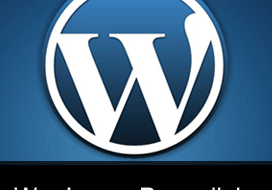 For Example:

Settings the Permalinks
To set the permalink structure in WordPress, go to Settings > Permalinks and set the permalinks according to your choice. However, you can also use the Custom Structure for your blog posts' permalink as softstribe does. For this to be effective, you have to think about the keywords you use in all of your post titles, meta desc, and so on…  Using Permalinks Codex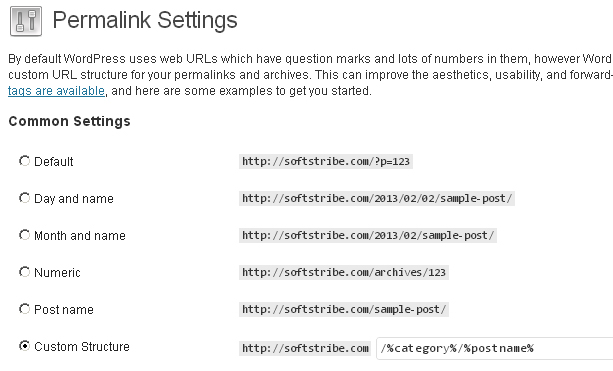 Custom Structure: /%category%/%postname%
A list of Variables (If you use WordPress SEO by Yoast)
These tags can be included in templates and will be replaced only by using WordPress SEO by Yoast when a page is displayed.
| | |
| --- | --- |
| %%date%% | Replaced with the date of the post/page |
| %%title%% | Replaced with the title of the post/page |
| %%sitename%% | The site's name |
| %%sitedesc%% | The site's tagline / description |
| %%excerpt%% | Replaced with the post/page excerpt (or auto-generated if it does not exist) |
| %%excerpt_only%% | Replaced with the post/page excerpt (without auto-generation) |
| %%tag%% | Replaced with the current tag/tags |
| %%category%% | Replaced with the post categories (comma separated) |
| %%category_description%% | Replaced with the category description |
| %%tag_description%% | Replaced with the tag description |
| %%term_description%% | Replaced with the term description |
| %%term_title%% | Replaced with the term name |
| %%pt_single%% | Replaced with the post type single label |
| %%pt_plural%% | Replaced with the post type plural label |
| %%modified%% | Replaced with the post/page modified time |
| %%id%% | Replaced with the post/page ID |
| %%name%% | Replaced with the post/page author's 'nicename' |
| %%userid%% | Replaced with the post/page author's userid |
| %%searchphrase%% | Replaced with the current search phrase |
| %%currenttime%% | Replaced with the current time |
| %%currentdate%% | Replaced with the current date |
| %%currentday%% | Replaced with the current day |
| %%currentmonth%% | Replaced with the current month |
| %%currentyear%% | Replaced with the current year |
| %%page%% | Replaced with the current page number (i.e. page 2 of 4) |
| %%pagetotal%% | Replaced with the current page total |
| %%pagenumber%% | Replaced with the current page number |
| %%caption%% | Attachment caption |
| %%focuskw%% | Replaced with the posts focus keyword |
| %%cf_<custom-field-name>%% | Replaced with a posts custom field value |
| %%ct_<custom-tax-name>%% | Replaced with a posts custom taxonomies, comma separated. |
| %%ct_desc_<custom-tax-name>%% | Replaced with a custom taxonomoies description |
| %%sep%% | The separator defined in your theme's wp_title() tag. |